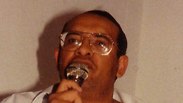 Israeli carjacked in West Bank: 'I thought they were going to kill me'
Natan Said, 71, was stopped by two Palestinians who put a gun to his head and ordered him to take them to Qalqilya, where they left him and drove away with his car; Palestinian police 'treated me very well. They brought me coffee and calmed me down.'
Natan Said, 71, who was carjacked by armed Palestinians to Qalqilya on Saturday, recounted the terrifying ordeal on Saturday, saying "I thought they were going to kill me."

Said, a resident of Holon, was on his way from the Samaria area of the West Bank to Kfar Saba on his own when he felt something hit the back part of his vehicle, not far from the Palestinian village of Nabi Ilyas.

He said he saw the two Palestinians in a blue Toyota even before they stopped him.

"They must have followed me. I stopped on the side of the road to see what had happened, and before I knew it, one of the Palestinians opened the door and pressed a gun to my temple," he told Ynet.

"It's a very unpleasant feeling when you see a gun pressed against your temple, and you don't know if it's loaded or not, and you can't do anything about it," Said added.

"He told me 'Take me to the entrance to Qalqilya, and you're free to go.' We went to Qalqilya, where he told me to turn left to an orchard, and another Palestinian pulled me out of the car. They got into the car, left me in the middle of the road, and drove away," Said continued.

He immediately called the police to report the theft. "I told them I was carjacked, and that two Palestinians had threatened me. I didn't know how to explain to them where I was, but I told them to turn to the Ituran company as I have a tracking device in my car," he explained.

He said the police operator on the line tried to calm him down when "three jeeps of the Palestinian security services, which must have gotten an order to get there, showed up. Then additional jeeps arrived to locate the carjackers as well."

Said noted he was treated "very well. They brought me something to drink and coffee, and made sure to calm me down."

Later he was informed his car had been found and he was taken to it. "The Palestinian police questioned me and accompanied me out of Qalqilya, where the Israeli police and the army were waiting for me, and they took me to be questioned at the Ariel police station," he said. "I definitely thought they might kill me, but God be blessed I got out of it."

Last February, two IDF soldiers accidentally entered Jenin in their military jeep and were accosted by Palestinian youth, who attacked them and their vehicle with stones. One of their weapons was stolen as well.

Palestinian police helped rescue them from the mob, and the soldiers were taken to the Jalameh checkpoint in coordination with the Civil Administration.