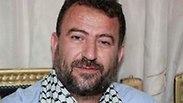 Walking a tightrope: Negotiating a ceasefire deal with Hamas
Op-ed: PM cancels his trip to Colombia while a delegation of senior Hamas figures arrives in Gaza. For the first time under Netanyahu's leadership, Israel is holding ceasefire talks with Hamas; everything is still open and each side is suspicious of the other
On the face of it, we have a fascinating situation: Prime Minister Benjamin Netanyahu canceled his (important? Maybe not) trip to Colombia, and made a point of explaining that he decided to stay in Israel to deal with matters related to Gaza.
Meanwhile, a delegation of senior Hamas figures, led by Saleh al-Arouri, the great villain who was involved in the murder and abduction of three Israeli youths—Gil-Ad Shaer, Naftali Frenkel and Eyal Yifrach—in 2014, arrived in Gaza.

This is the first time that al-Arouri visits Gaza. According to foreign reports, Israel has vowed not to assassinate him.
The situation took an unexpected turn when the Hamas leadership held a rather casual meeting in Cairo and then headed to the Gaza Strip to have a broader forum, walk around Gaza, and make decisions in the field.
On the way, the delegation visited the border with Israel and took photographs holding a picture of the 17-year-old terrorist who stabbed Yotam Ovadia to death in the settlement of Adam.
What is fascinating about the story is that Israel, just like Hamas, wants Egypt to mediate the cease-fire arrangement. Note that we are talking about a cease-fire deal with Gaza alone, the arrangement does not include the West Bank.
Our eyes, then, are set to the strip, and Palestinian President Mahmoud Abbas and his associates will follow the developments as well and burst with anger.
If things go as planned, an Egyptian-brokered agreement between Israel and Hamas will eventually be reached, with the involvement of United Nations representative Nickolay Mladenov and Qatar's envoy Muhammad al-Imadi.
The latter has recently stated: "We are working on preventing the next confrontation in Gaza... and in order to rehabilitate Gaza, we have to talk to Israel."
Notice he does not mean engaging in direct dialogue with Israel, and does not say who will do the talking.
What does the ceasefire agreement entail? A five-year truce (with the option to extend it further), cessation of hostilities between Gaza and Israel, removal of economic barriers from the Gaza Strip, bringing donors to the Gaza Strip to fund water, electricity, the construction of infrastructure, and the renovation of houses destroyed in IAF bombings. Next, the construction of a sea port for Gaza in Ismailia, Egypt, and an airport for the strip in Sinai. The final stage of the agreement includes the exchange of prisoners, captives, and missing persons (both sides are not satisfied with this plan).
It is important to emphasize what is missing from the agreement: the connection between the Gaza Strip and the West Bank is not mentioned, as if they were two separate entities. The Palestinian Authority, if it wishes, can establish relations with Jordan, and Gaza can gradually establish close ties with Egypt. The ties will be so close that they will (barely) have need for the Kerem Shalom border crossing for transferring goods to Gaza.
You may ask, correctly, why was it so important to bring al-Arouri? Apparently the reason lies in the Egyptian-Israeli demand to immediately stop Hamas's digging of cross-border tunnels and the transfer of weapons to Gaza through smuggling tunnels.
Ismail Haniyeh is indeed the head of Hamas' political bureau, but he has become too soft. His deputy, al-Arouri, who has been living in Lebanon for the past couple of years, and walking freely in the Middle East and Africa, is very cunning. His commitment, not Haniyeh's, is crucial.
On one hand, nothing has been set in stone yet. On the other hand, al-Arouri would not have come to Gaza had it not been for a serious affair, and Israel would certainly would not have promised not to assassinate him.
We should not forget that al-Arouri can still leave (for the fourth time this year) Lebanon, move to Tehran, and ask the Iranians to be more involved in funding and supplying arms to Gaza.
Al-Arouri, as previously mentioned, is a very dangerous man with whom Israel has a long history. But, unfortunately, the more blood you have on your hands, the more important you are.
And yet everything is still open. It seems to me that there was no such precedent, at least not under Netanyahu's leadership, of a ceasefire agreement forged between Israel and Hamas's leadership.
Both sides are suspicious of each other, and even Egypt, which knows its way around these waters, is not free of suspicions.