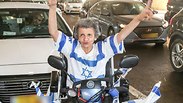 נכים חוסמים נתב"ג מחאת נכים
Photo: Yariv Katz
Some 30 activists from the "Disabled Black Panthers" protested Tuesday afternoon across from Ben Gurion Airport's main departures hall as part of their efforts to raise the allowance they receive from the state.

The protesters blocked the airport's exit road chanting "We want justice not charity," "Justice for the disabled, not for the rich," and "Shame on the government." Police officers handed out water bottled to the protesters in consideration of the hot weather.


"We do not know whether to choose food or medicine. We are in a horrible predicament. We won't quit until the allowance is raised to the minimum wage," said Dalia Atal, one of the picketers.

Other activists expressed rage at what they feel is a "corrupt government" throwing crumbs at them. "We are here at Ben Gurion to demonstrate that the disabled are not transparent. Next time we will up the notch in our struggle," said Eyal Cohen, a leader of the protests.

The protesters tried to explain to the angry passengers and drivers, who were honking their horns at them, that the struggle is "not that of the disabled alone but rather of the whole Israeli society."

In contrast to previous protests, which had erupted suddenly and without prior warning, the organization behind the current one did announce their intentions in advance.

Previous protests involved blocking major highways and access to important infrastructure sites as well as the entrance to the homes of senior public officials.

The Airport Authority warned passengers in advance to arrive early for their afternoon and evening flights. Some 92,000 passengers are expected to pass through the airport on Tuesday.

The airport's spokesman Ofer Leffler said earlier that he supports the protest but does not believe that obstructing the airport is the proper way. "The tourists landing in Israel won't understand what it is about… We will do all that we can so that flight schedules are not harmed."

The disabled activists have been protesting for over a year over their state allowance which has not been updated since 2002 until the Knesset raised it to NIS 3,270 a month half a year ago.

By 2022 the allowance is set to be raised to NIS 3,700, but they are demanding that it match the minimum wage: NIS 5,300 a month.