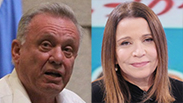 Broshi; Yachimovich
Photos: Knesset, Idan Arbeli
Yachimovich: MK Broshi accused of sexual harassment by another woman
Yachimovich reveals story of woman who served in Broshi's IDF battalion, saying he 'sexually harassed her on a regular basis and made her life miserable'; Broshi's recent harassment of MK Nahmias-Verbin, and his lawyer's attack on yet another complainant, led more women to come forward, the MK says.
Zionist Union MK Shelly Yachimovich posted Sunday about another woman who accused MK Eitan Broshi of alleged sexual harassment and indecent acts.

In a Facebook post, Yachimovich detailed the case, on which the statute of limitations has already passed.

"Another case of sexual harassment and indecent acts done by MK Eitan Broshi from my party, and some words about the moving and historic struggle for women's right not to be a victim of violence and humiliation," Yachimovich opened her post.

Broshi, she said, was the battalion commander of a soldier she named only as M., saying he "sexually harassed her on a regular basis and made her life miserable."

"One day M. encountered him on the street, years after she had been released from the IDF. By then she was a woman with self-confidence, married, a mother, who works in an important and profession that contributes to society. And yet she froze as if paralyzed, almost fainted, and returned home shaking, upset, in shock and nauseous," Yachimovich wrote.

"To answer the insufferable question of 'why did she just remember this,' I'll say: M. didn't have to remember, simply because she never forgot. The feelings of disgust and fear have always been there," she continued. "As the saying goes: The rifle can't remember, the target can't forget."

She said M. was only one of the women who turned to her recently to tell her about alleged harassment by Broshi.

Broshi was recently in hot water after touching the behind of a fellow member of Knesset, Ayelet Nahmias-Verbin.

According to eye witnesses, Broshi initially did not realize the problematic nature of his actions and went about his day as if nothing had happened.

It was only after other MKs intervened that Broshi and Nahmias-Verbin spoke about the incident. Broshi apologized to Nahmias-Verbin and the two agreed to let the matter go.

This incident, which was first reported by Ynet, and an additional interview given by another complainant to journalist Akiva Novick on Channel Ten about an alleged sexual assault Broshi had committed against her inside an elevator 15 years ago, were what led other women to come forward, Yachimovich said.

She also came out against MK Broshi's lawyer's attack on the woman interview by Channel Ten. "His response was a good demonstration of why most women are still afraid to complain. It included all of the dark clichés of the old world by vilifying the victim and questioning her motives. But this response also made (the women) angry and want to tell their story," she wrote.

According to Yachimovich, "Lt. Col. Broshi turned Sgt. M. to a target for sexual harassment immediately upon her arrival at the base. It only got worse. At first, he described his intentions to her with coarse and vulgar language. She firmly refused. And then she rejected him again and again and again. But he would not let it rest, and stared at her private parts every time she had to enter his office as part of her job. He created a threatening and stressful atmosphere. Her friends in the battalion knew, and there was always someone waiting close by in case she couldn't push him away on her own.

"Later, he started creating situations that forced her to be alone with him. And so, he demanded that she spent one of the holidays with him on base. With her being a 'common soldier,' as she described it, and him the battalion commander, she clearly had no choice.

"He also demanded that she accompany him on a tour of different positions under his command. He and she were in the car, while he showered her with indecent proposals and vulgar words. She was afraid of him, but demanded him to stop.

"In one of the times he staged and organized incidents to force himself on her, he was able to create a situation in which he was sleeping in a nearby room to hers. I won't go into details, but I'll say she had all of the reasons in the world to think she was completely safe, and that he would not dare come near her. She was wrong. In the early morning, she woke up with his tongue in her mouth as he was trying to force himself on her. She pushed him off, he was afraid someone would hear it, and let go."

Yachimovich said she corroborated the story before posting it by speaking not only to the complainant but also to those who served with her in the battalion, and they confirmed the details.

She said three other women turned to her, one just this morning, claiming they've been harassed by Broshi. Yachimovich added other turned to her with stories about other women who were harassed by Broshi, but she said she chose not to take action because it was important to her it would be the complainant's own choice to come forward.

When she first approached Yachimovich, M. wrote to her that "recent events have aroused anew the disgust I felt then. The difference is that today, the fear doesn't exist, but the memory of this fear is still alive and well. My close friends, who called immediately after the recent reports, are also furious at the man, and he arouses the same feeling of disgust in them, too... I'm glad at least my daughter's generation already knows we must not be scared to go public about such cases, and there's no reason not to shame those who dare act like this."

Zionist Union leader Avi Gabbay suspended Broshi two weeks ago following the complaints made against him. In response, Broshi filed a libel suit against Gabbay, demanding NIS 300,000 in compensation.