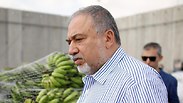 Lieberman visits the Kerem Shalom crossing
Photo: Reuters
Defense Minister Avigdor Lieberman said Tuesday afternoon that if the calm on the Gaza border continues, the Kerem Shalom border crossing will be opened on Wednesday morning.
After a situation assessment the defense minister held Tuesday with IDF Chief of Staff Gadi Eisenkot and other defense heads, it was also decided to also expand the fishing zone off the coast of the strip back to a distance of 9 miles from the shore.
"If the quiet on the Gaza border that has prevailed since the beginning of the week is preserved until tomorrow morning, the Kerem Shalom crossing will be opened at 9am and the fishing zone will be expanded once again up to a distance of nine miles from the shore," Lieberman said at the conclusion of the meeting.
"The opening of the Kerem Shalom crossing, after three days of quiet, is intended to indicate to the population in Gaza that maintaining quiet is first and foremost an interest for Gaza's residents," he added.
Prime Minister Benjamin Netanyahu and Lieberman announced the closing of the Kerem Shalom crossing last month, as well as the cutting off fuel and gas supplies to the Gaza Strip after a ceasefire agreement was violated earlier that day when a rocket was fired into southern Israel. Medicines and food were, however, allowed to pass through the crossing.
Eight days later the crossing was partially reopened and some restrictions were eased, only to be closed two weeks ago after the situation at the Gaza border escalated yet again.
The renewed opening is part of an agreement reached between Hamas and Israel in ceasefire agreement brokered by Egyptian and UN envoy to the Middle East, Nickolay Mladenov, that was hammered out to put an end to weeks of border flare-ups and exchanges of fire.
Against this background, an Israeli official told the Los Angeles Times on Monday that a ceasefire deal between Israel and Hamas is "virtually done."
Hamas, meanwhile, continues to hold intensive discussions in Cairo and a delegation of Palestinian Liberation Organization heads will convene in Ramallah on Wednesday to discuss the matter.
At the beginning of the week, a delegation of senior Hamas officials met in Cairo to discuss the situation in Gaza and ways to alleviate the crisis gripping the coastal enclave.
The plan included calming tensions with Israel and implementing a reconciliation deal with its rival Fatah party that reins in the West Bank—an agreement that was signed at the end of 2017 but crumbled shortly after.