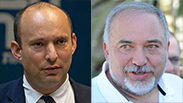 Ministers Lieberman and Bennett
Photo: Avi Roccah and Ohad Zwigenberg
Bennett blasts Lieberman's 'reward' to terrorists in easing Gaza restrictions
After defense minister announces decision to reopen Kerem Shalom border crossing and expand Gaza fishing zone if two-day lull in fighting continues, Bayit Yehudi leader says move constitutes 'prize in return for 130 days' of terror, adding it will only enable Hamas to rearm and become 'Hezbollah 2.'
Education Minister and Bayit Yehudi leader Naftali Bennett accused Defense Minister Avigdor Lieberman on Tuesday of rewarding Hamas with a "prize in return for 130 days" of terror after the latter announced a decision that will see the easing of restrictions on the Gaza Strip if the Hamas leaders continue to ensure quiet on the border with Israel.

"Lieberman's gestures to Hamas are a mistake—Jewish Home ministers will vote against the Israel-Hamas agreement," a press statement by Bennett's office read.

The comments mark the latest round in a string of disagreements between the two ministers after Lieberman announced that if the calm on the Gaza border continues, the Kerem Shalom border crossing will be opened on Wednesday morning and the fishing zone off the coast of the strip will be expanded back to a distance of 9 miles from the shore.

The statement said that the temporary ceasefire would only enable the Gaza terror group to rearm and regroup for the next round of fighting with Israel and would turn Hamas into "Hezbollah 2."

"This is a prize in return for 130 days of terror, rockets, snipers and incendiary balloons," Bennett said. "This 'quiet' will award Hamas total immunity to replenish tens of thousands of rockets threatening all parts of the country, and allow them to launch a war against Israel at a time and under conditions most convenient to them."

The outcome, he added, would "ultimately lead to the opening of two highly dangerous fronts, to the north and to the south—at a time determined by the enemy and under their conditions."

Bennett went on to stress that after 130 days under attack and rocket fire, Israel could not reward terrorists without the return of two Israeli civilians being held captive by Hamas and the remains of Lt. Hadar Goldin and Staff Sgt. Oron Shaul who were killed during Operation Protective Edge in 2014.

"The terrorists will learn that terror pays, and Israel's power of deterrent will be harmed," Bennett said, noting that his party's opposition to the plan for a "mock quiet" did not mean an operation to conquer Gaza.

"There is an alternative that does not involve a ground operation into Gaza, which we oppose," he said. "We have initiated a plan to eliminate the terror from Gaza, without manoeuvring ground forces into Gaza, yet exacting a decisive price from Hamas. We put forward the plan in the relevant security forums—at this stage it has not yet been adopted, but we will continue to promote this."

Responding to the criticism, Lieberman's Yisrael Beytenu party issued a statement mocking the education minister.

"As usual, Minister Bennett runs to the media with empty slogans which are nothing more that petty politics at the expense of the IDF and the security security establishment. It would be preferable that he deal with rising violence in schools," the derisory statement said.