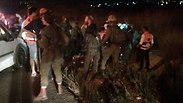 Scene of the incident
Photo: TPS
An Israeli woman was killed after being hit by what is reported to be a Palestinian taxi at a junction on Highway 60 near the Havat Gilad outpost on Thursday night in a suspected hit-and-run.
The woman, in her 40s, was seriously hurt, and paramedics at the scene had to declare her dead after resuscitation efforts failed.
The driver, in his 60s, fled the scene, but later turned himself in to the Palestinian police in Nablus. He said he fled because he was afraid.
Yossi Dagan, the head of the Samaria Regional Council, asserted the incident was a terror attack.
"The junction is lighted... there are no signs of an attempt to stop—not before the spot and not after. Meaning, the driver was not surprised by the crash. As far as we're concerned, this is a serious terror attack, a cold-blooded murder, of a residents of the Samaria on a central road in the State of Israel," Dagan said.
Earlier this year, Rabbi Raziel Shevah was murdered outside Havat Gilad in a drive-by shooting. Ahmed Nassar Jarrar, the head of the terror cell responsible for Rabbi Shevah's murder, was shot dead during a standoff with Israeli security forces almost a month later.
Several days before the terror attack that claimed Rabbi Shevah's life, security forces were looking into information about an armed Palestinian in the area.