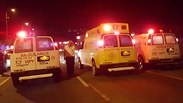 The Israeli woman killed by a Palestinian man on Thursday in what is suspected of being a hit-and-run car accident has been identified as 42-year-old Hava Roizin from Emanuel.

Roizin was run over near Havat Gilad by a Palestinian man in his 60s driving a taxi, who later turned himself in to the Palestinian police in Nablus. He said he fled because he was afraid.

The Emanuel Local Council issued a statement saying: "We are with the husband and family in this difficult hour."

Roizin was killed after being hit by what was said to be a Palestinian taxi at a junction on Highway 60 near the Havat Gilad.

She was seriously hurt in the incident, and paramedics at the scene had to declare her dead after resuscitation efforts failed.

Yossi Dagan, the head of the Samaria Regional Council, immediately asserted the incident was a terror attack.

"The junction is lighted... there are no signs of an attempt to stop—not before the spot and not after. Meaning, the driver was not surprised by the crash. As far as we're concerned, this is a serious terror attack, a cold-blooded murder, of a residents of the Samaria on a central road in the State of Israel," Dagan said.

However, on Friday morning, the IDF Spokesperson's Unit said that an initial investigation by the army and the Shin Bet into an incident was most likely a car accident rather than a terror attack.

"That said, an investigation in another direction has not yet been ruled out," a statement said.