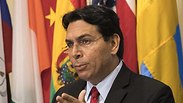 Danny Danon
Photo: Getty Images
Presidents, prime ministers, ambassadors and ministers will be asked to participate in an online campaign against anti-Semitism which is being initiated by the Israeli delegation to the United Nations.

The 73rd United Nations General Assembly meeting is scheduled to take place in New York next month, between September 25-28, where the Israeli Ambassador to the UN Danny Danon will launch an online campaign against anti-Semitism.




The campaign will include slogans such as: "united against anti-Semitism," "anti-Semitism has no place in our world," "we were not born to hate," and "make your voice heard against anti-Semitism."

A kiosk will be erected at the entrance to the UN building and Ambassador Danon will ask world leaders to stop by and be photographed or videoed next to one of the campaign's slogans on display.

The photos and videos will be publicized on Facebook, Twitter and Instagram with the hashtag: #No2Antisemitism. World leaders will also be able to share the media on their own social network profiles.

The Israeli delegation enlisted the US, Canada and the EU countries to participate in the campaign and issued a general invitation for all UN member states to attend. An invitation was also sent to UN Secretary General Antonio Guterres and world leaders.

"Israel and the Jews are still a target of anti-Semitism under the guise of anti-Zionism," said Ambassador Danon. "We must act with all our resources to combat modern anti-Semitism in order to guarantee the security of the Jewish people in Israel and the Diaspora.

"The campaign is part of Israeli hasbara (PR) efforts in the world and allows world leaders to convey an important message against anti-Semitism to their millions of social media followers."

Alongside the campaign, an event discussing combating anti-Semitism will also take place at the UN with the participation of the secretary general and French President Emmanuel Macron.