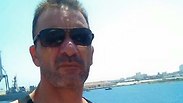 'If I hadn't intervened, they would've been murdered'
Yair Elalouf, who aided the three Arab men who were attacked by Jewish youth last week on Kiryat Haim beach, says 70-80 people witnessed the beating and did nothing; 'Without him, we wouldn't have stayed alive,' the three men say; both suspects arrested freed from police custody and put on house arrest.
Yair Elalouf, who aided the three Arab men from Shefaram when they were attacked by Jewish youth last week at a Kiryat Haim beach, said Sunday that if he and his friend hadn't intervened, "they would've murdered them."

Elalouf told Ynet in an interview that at least 70-80 people witnessed the attack on the beach in Kiryat Haim, but none of them intervened or called the police.

According to Elalouf, 8-10 youths attacked the three Arab men. "I saw a group of young Russian men beating (the Arabs) with clubs and chains. They jumped three people there, who were already unconscious on the ground, covered with blood," he said.

"One of them asked me for help, said they were going to kill them. I went there, I got the young guys away from there, and called the police. I did what I thought was right, to help them," Elalouf added.

Elalouf said he heard two versions of what had happened. "One (from people who were there) that they (the Arabs) started it (by provoking) the Russian guys, and another version from girls who said they were there that they (the Arabs) didn't do anything, they were just sitting there quietly drinking. What's the truth? I don't know," he said. "I think this is unjustified hatred."

The three Arab men thanked him for his help. "I saw them this morning at the police station. They took my number and started thanking me. They want to come over to my house. I think I did something any normal person should do," he said.

"In France, there's a law that if you don't help a person in danger, you are an accomplice to the crime. I was trying to be a good citizen, I'd do the same for any person," Elalouf concluded.

Later on Sunday, Elalouf met with the three Arab men, who said they "need to thank him for saving our lives. Without him, we wouldn't have stayed alive."

The victims—a doctor from the Ichilov Hospital at the Tel Aviv Sourasky Medical Center, a 28-year-old nurse and a 20-year-old man—said the attack was racially motivated.

"We were sitting on the beach for about half an hour when a Jewish man walked up to us and asked if we were Arabs. We said 'yes, what do you want?' And he just left. We thought that he might be drunk. The man returned shortly, this time accompanied by many others," the victims said.

"After two minutes, he came back with nine other people with knives, metal chains and bars and just started to beat us," they recalled.

"They started hitting us with no mercy, in all parts of our body, when we were sitting down. They wanted to kill us, just because we are Arabs," they added, and mentioned they were hit in the head, upper limbs, knees and back.

"Two Jewish men passed by, pushed them back from us and called the police and Magen David Adom (MDA). The two Jewish men gave us water and helped us," they added.

One of the men who was attacked said, "It pains me, because in my profession I treat Jews. I have never looked at a man's origin. I also have Jewish friends and I live among Jews."

The men also said that the attackers swore at them and said "you are Arab dogs, don't stay here."

A police statement said that the three were sitting on a beach in Kiryat Haim when the first suspect, a 23 year old from Kiryat Haim, came up to talk to the victims. He later returned with his friends and together they attacked the three.

Two suspects were arrested by the police, the 23 year old and another 29 year old from the north, but both have since been released from police custody and put on house arrest.

The 23 year old has been

put on a three-day house arrest

, with the judge criticizing the police for failing to present evidence to tie the suspect to the attack, as well as failing to check his alibi or hold a police lineup in the 24 hours he was in custody.

The 29 year old suspect was also put on house arrest, with the judge determining there isn't sufficient evidence to justify keeping him in police custody.

At court, the suspect insisted he was arrested for no reason. "I wasn't there and I wasn't involved in any incident. I have no idea why I was arrested," he said.

Ahiya Raved and Raanan Ben Zur contributed to this story.