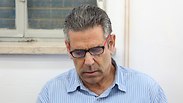 Gonen Segev
Photo: Amit Shabi
Iran on Israeli spy: 'We controlled a cabinet member of hostile country'
Tehran's intelligence minister says 'we brought under our control a member of a cabinet of a hostile country' without elaborating; some Iranian media say he's referring to Gonen Segev, former Israeli minister charged with serving as an Iranian agent.
LONDON - Security forces in Iran have arrested tens of spies working in state bodies, Intelligence Minister Mahmoud Alavi said on Tuesday, and also indirectly commented the arrest of former Israeli minister Gonen Segev, who was charged with spying for the Islamic Republic.

"You have recently heard that we brought under our control a member of a cabinet of a hostile country," Alavi said, without specifying which country.

"The counter-espionage sector of the intelligence ministry is one the most powerful among world's intelligence services," he added.

Some Iranian media said Alavi was referring to Israel's former energy minister Gonen Segev, who was charged in Israel with serving as an Iranian agent in June.

Segev, energy minister from 1995 to 1996, had been living in Nigeria, where he made contact with officials at the Iranian embassy in 2012, according to Israeli investigators.

He had been jailed in Israel in 2004 after being convicted of attempting to smuggle Ecstasy pills into the country. He left Israel in 2007 after his release from prison.

Speaking of the spies Iran has allegedly captured, Alavi indicated that many of the detainees were dual nationals, but did not say when the arrests took place or which countries the spies allegedly were working for.

"I have repeatedly asked people to inform us if they know any dual national. The intelligence ministry's anti-espionage unit has successfully identified and arrested tens of spies in different governmental bodies," Alavi was quoted as saying by the semi-official news agency ISNA on Tuesday.

The arrest of dual nationals has increased since Iranian Supreme Leader Ayatollah Ali Khamenei said there had been "infiltration" of Western agents in Iranian decision-making bodies.

Reuters reported in 2017 that Iran's elite Revolutionary Guards had arrested at least 30 dual nationals in recent years, mostly on espionage charges.

Tension between Tehran and some Western countries has risen since May when US President Donald Trump withdrew from an international nuclear deal with Tehran and reimposed some of the US sanctions that had been lifted after the 2015 accord in return for restrictions on the Iranian nuclear program.

Iran does not recognize dual nationality and does not routinely announce arrests or charges of dual nationals, whose rights to consular assistance are enshrined in the UN Vienna Convention.

Alavi said that security forces arrested this month a member of the Islamic State militant group in southern Iran, and had disbanded a "terrorist cell" in the country's north.

He said his ministry had foiled several plots to bomb metro stations and universities, without making any of the incidents public at the time.

Under Islamic State's ultra-hardline Sunni Muslim ideology, Shi'ites—the majority in Iran—are considered apostates. Last year, Islamic State militants carried out attacks on the parliament in Tehran and the mausoleum of the founder of Iran's 1979 Islamic Revolution, Ayatollah Ruhollah Khomeini. At least 18 people were killed in the attacks.