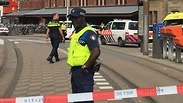 Scene of incident
Photo: AFP
Police in the Dutch capital say they have shot and wounded a suspect following a stabbing at Amsterdam's busy central railway station.

Police tweeted Friday that two people were injured in the stabbing. A tunnel under the station's tracks was closed following the incident.


The motive for the stabbing wasn't immediately clear and further details weren't immediately available.

Local television station AT5 said the incident followed an argument.

Police said in a statement the suspect and other injured people were taken to hospital for treatment.

They also said the motive for the stabbing was under investigation and "all possible scenarios are being kept open."

Police said that two platforms were closed to train traffic, but the station wasn't evacuated. Trams to and from the square in front of the station were stopped as police and emergency services converged on the area. Red and white police tape kept members of the public away from the scene.

Central Station is a busy entry and exit point for visitors to the Dutch capital, with regular trains linking it to the city's Schiphol Airport. Friday is one of the busiest days of the week, with many tourists arriving for the weekend.

The attack raises fear that it could have been terror-related.

While this was not initially confirmed, Europeans have grown increasingly anxious amid an upsurge in the number of terror attacks that have swept through the continent.

In mid-August, three people were injured after a silver Ford Fiesta collided with security barriers outside London's parliament building during rush hour.

Immediately after, London's Metropolitan Police said the incident, the latest apparent attack on Britain in the last 18 months, was being treated as a terrorism incident and its Counter Terrorism Command unit was in charge of the investigation.

A 29-year-old man identified as Salih Khater, a British citizen of Sudanese origin, was detained at the scene on suspicion of carrying out the attack.

Police believe a car was deliberately driven into pedestrians and cyclists before ramming the security barrier outside parliament.