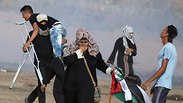 Gaza border riots
Photo: Reuters
Thousands of Palestinians protest in Gaza border riots
While ceasefire talks are being held to achieve calm in Gaza, grenade is thrown at IDF force during weekly Gaza border riots; 2 Palestinians are reported to be critically and severely wounded; IDF drone crashes in southern strip; IDF says technical malfunction occurred and negates intelligence leakage.
Thousands of Palestinians are taking part Friday in the weekly "March of Return" protests along the Gaza border fence.

The riots are taking place in five different locations along the Gaza border fence, with Palestinians hurling stones and burning tires.

A grenade was thrown at an IDF force, no injuries were reported.

Gaza border riots

IDF forces are responding with crowd dispersal measures and precise shooting at main instigators.

Deputy Hamas leader in Gaza, Khalil al-Hayya, joined the protesters and said, "The marches will not end until all goals are achieved. As long as the occupation continues, our people have the right to resist in all ways."

Earlier, an incendiary balloon flown from Gaza caused a fire to break out in Be'eri Forest. Firefighting teams gained control over the fire.

In addition, KKL employees identified two incendiary kites flying over Be'eri Forest.

The Palestinian Health Ministry said 120 people were injured, with a female medic defined as critically wounded from a gunshot to the back and a 10-year-old boy defines as seriously wounded.

The Palestinians claimed they had succeeded in shooting down a drone launching tear gas grenades at demonstrators east to the city of Rafah in the southern strip.

Alleged photos of the drones were posted on social media.

The IDF confirmed that the drone was shot down. However, they said the cause was a technical malfunction, adding there is no fear of intelligence leakage.

Senior Hamas officials joined the protesters, among them Deputy Hamas leader in Gaza, Khalil al-Hayya.

"The marches will not end until all goals are achieved. As long as the occupation of Palestine continues, our people have the right to resist in all ways." al-Hayya asserted.

A Palestinian Islamic Jihad senior official Khaled Albatsh called to hold the protests across the Palestinian cities in the West Bank and military checkpoints in addition to the Gaza border fence.

Speaking with journalists in Gaza, Hamas leader Yahya Sinwar said Wednesday that "Hamas has decided that the siege on the Palestinian people would end since the Palestinians have the right to live in dignity."

"So far there is no final version of the ceasefire agreement, only suggestions and ideas. Any punitive measures executed by the Palestinian Authority against Gaza will change the rules of the game and we will respond accordingly," Sinwar asserted.

In recent days, Fatah leaders have expressed their stance in talks with the Egyptian intelligence about the reconciliation document formulated in order to reach an understanding with Hamas.

The terror organization is now expected to resume talks with Egypt to formulate a final version addressing the intra-Palestinian reconciliation and the ceasefire agreement with Israel.

Meanwhile harsh accusations were swapped between Hamas and Fatah's spokespersons, with both sides claiming the other one is delaying the reconciliation process.

Sinwar and other Hamas officials met with the leadership of local organizations in Gaza in order to coordinate positions ahead of their departure to Cairo to resume negotiations talks.

"We've submitted several proposals regarding the captive Israeli soldiers and there will be progress on that matter shortly, alongside the calm (to be achieved between Israel and Gaza). However, the two issues don't depend on one another," Hamas leader elaborated.

"In two months it will be possible to restore calm in the Gaza Strip—and Egypt has expressed its willingness to do so—even if an intra-Palestinian reconciliation is not reached," he elucidated.

An Israeli senior official addressed last week the ceasefire talks saying, "(A ceasefire agreement) has not been reached, we are working to achieve it," following Defense minister Avigdor Lieberman's remarks that he does not believe in reaching an agreement with the Hamas terror group.