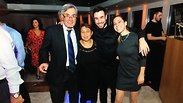 A family in Jerusalem possessing dual Israeli and Belgian citizenship received letters from the Consulate General of Belgium last week, which stated that the parents of the family live in "Jerusalem", while their two children live in "Palestinian territories."

Living in the Pisgat Ze'ev neighborhood which is located over the Green Line in eastern Jerusalem, the family expressed their shock at the different reference to the city written on the letters.

The family said that all letters addressed to the family from the Belgian consulate have always referred to all its members simply as residents of Jerusalem.

The mother, Annabel Hertziger Tenzer, received the letter addressed to Jerusalem, while her children, Talia (24) and Gilad (26)—both of whom live in the same apartment—received a letter addressed to "Palestinian territories."

The letter, which was sent to every Belgian citizen as the Western European country approaches its national elections, was intended to explain to all expats their rights and how to cast their vote.

According to the family, the sudden shift in policy was prompted by the transfer in May this year of the US Embassy from Tel Aviv to Jerusalem, a move that was rejected by the European Union, which believes that the fate of the holy city should be decided in final status negotiations between Israel and the Palestinians.

Home to the al-Aqsa Mosque and other holy sites of three major monotheistic religions, including Christianity, the Palestinians claim the eastern half as their capital in a future state.

Israel—with the Western Wall symbolizing the heart of Jewish heritage—united the city after the 1967 Six-Day War and cites the Jewish people's 2000-year connection to all of Jerusalem, and insists that it must remain the undivided capital of the Jewish state.

Avi Tenzer, the father of the Belgian family, slammed his former country of residence for the letters, accusing it of seeking to divide families in Jerusalem.

"Not only is Belgium dividing Jerusalem, it is also trying to separate me and my wife from my children," Avi said.

"We always lived in north Jerusalem and we are part of Jerusalem. Until this time, all the letters we received had the city Jerusalem written on the address. We hope that this is not a change in Belgium's policy. We demand an explanation and ask that they send new letters with Jerusalem written on them," he added.