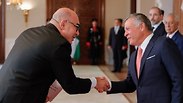 King Abdullah II and Amir Weissbrod
Amir Weissbrod attended a ceremony in Jordanian capital of Amman, where his credentials were presented as Israel's new ambassador to Jordan, bringing to a close a crisis between the two states after an Israeli embassy security guard shot dead two Jordanians, one of which he claimed attempted to stab him.
After submitting his credentials to Jordan's King Abdullah II, Ambassador Weissbrod held a brief conversation with the king.
In 2001, Weissbrod was appointed as spokesman for the Jordanian embassy, a position which he held until 2005.
"All in all, this is a good period in Israeli-Jordanian relations. The border with Jordan is a stable and important one," said the new ambassador.
Over the past few months, Weissbrod met with Jordanian ministers in order to initiate the process of rebuilding the trust between the two states, following a security crisis which saw an Israeli ambassador being expelled from the country for nine months.
Diplomatic sources say relations between Israel and Jordan have been repaired and are now stronger than ever with more and more attempts being made to promote joint economic ventures.
In March, Jordan accepted Israel's choice of Weissbrod to serve as the new ambassador for the kingdom,
Two months later, Prime Minister Benjamin Netanyahu met with Jordan's king in Amman, in what was their first encounter since a diplomatic spat erupted following a deadly embassy incident.
In May, Weissbrod landed in Amman where he officially took up his post as the Israeli ambassador, nearly nine months after his predecessor Einat Schlein, along with her entire diplomatic staff, was forced to leave Jordan due to the shooting incident that ruptured the two countries' relations.