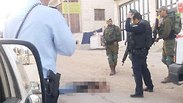 Vail Ja'abari, 36, from Hebron attempted Monday to stab an IDF soldier at the entrance to the Geva Haavot neighborhood in Kiryat Arba.

The terrorist was shot dead by IDF soldiers standing at the Geva Haavot checkpoint.

At about 6 pm Ja'abari approached a group of soldiers that were standing at the entrance to the neighborhood located between Kiryat Arba and Hebron and attempted to stab one of the soldiers.

Attempted stabbing attack in Kiryat Arba (צילום: חברים לשעת צרה ונתן לוי)

An initial investigation indicates that the terrorist charged at the soldiers standing at the checkpoint with a knife.

The soldiers responded with gunfire. None of the Israeli soldiers were injured.

However, a Palestinian resident of Hebron, Abed al-Maw'ti al-Qawasmi, claimed that the man was shot by an Israeli settler who "stopped his car suddenly and then fired at him".

Al-Qawasmi said he heard four shots, and that the man killed was not carrying "any knives or anything."

This attempted terror attack follows another violent incident comitted on Sunday by a Palestinian who was arrested near Tekoa in the West Bank after attempting to attack a resident of the settlement with a miniature metal model of a bike.

No injuries were reported.

According to eyewitnesses, the assailant, who had been throwing rocks at moving vehicles just moments before the attack, charged at the IDF soldiers while screaming 'Allahu Akbar'.

IDF combat soldiers arrested the Palestinian suspect while other soldiers scoured the area in pursuit of other potential suspects.

The motivation behind the attempted attack was examined by security forces, but initial conclusions point to an attempted terror attack.

According to an initial investigation, the Palestinian has been throwing rocks at passing vehicle before fleeing to Tekoa in the Gush Etzion region. He was taken in for questioning following his arrest.