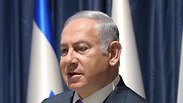 Prime Minister Benjamin Netanyahu
Photo: GPO
Prime Minister Benjamin Netanyahu said Monday that the nuclear agreement with Iran was poor in all respects except for the fact it has brought Israel closer to the Arab world.

"The nuclear agreement has brought us closer to the Arab world, as close as never before. The normalization of our relationship with major Arab countries is happening on a scale that would have been impossible to imagine just a few years ago and our goal is to continue (this process)," the premier explained.

Meanwhile, Syria's President Bashar Assad and Iranian Foreign Minister Mohammad Javad Zarif met on Monday to discuss recent developments in Syria and the region.

According to a statement made by the Syrian Presidential Palace, the two leaders agreed that "the fact that the West has resorted to threats and pressure on Tehran and Damascus attests to its failure to implement the plans it has proposed."

"the pressures exerted by some Western countries will not deter both countries from continuing to maintain their principles and securing the region," the statement read.

Zarif landed in Damascus on Monday morning for talks with senior Syrian officials, in light of growing tension in the region.

The Syrian newspaper Alwatan quoted a diplomatic source as saying: "The visit comes in the light of the preparations of the Syrian army and its allies for the liberation of Idlib."

Netanyahu visited the Negev Nuclear Research Center near Dimona on Wednesday and warned Israel's enemies that it has the means to destroy them.

"Those who threaten to wipe us out, put themselves in a similar danger, and in any event will not achieve their goal. Our enemies know very well what Israel is capable of, they know our policy, and anyone who tries to harm us—we will harm them," Netanyahu added.

Netanyahu also referred to the agreement between Iran and Syria saying,"the IDF will continue acting with full determination and with full might against Iran's attempts to station forces and advanced weapons systems in Syria, and no agreement between Syria and Iran will deter us, nor will any threat frighten us."

"We are working to prevent Iran's entrenchment in Syria. We will not let go of this goal, just as we did not let go of the effort to bring about the cancellation of the nuclear agreement with Iran, which was perceived as impossible when I first placed it on the international agenda a few years ago," he went on to say.