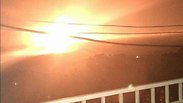 Alleged overnight strike on Sunday
Syria says IAF jets launched strikes in Hama
In strike that RT reports killed 2 people and wounded at least 5, state news agency says air defenses 'downed a number of rockets fired by the Israeli enemy', claiming Iranian targets were the objective; report comes shortly after Israeli military official claims IDF attacked approximately 200 targets in Syria over the last year-and-a-half.
Fighter jets struck targets in Syria's Hama countryside, Syrian state news agency SANA said on Tuesday, in an attack Syria swiftly attributed to Israel.

The Syrian Observatory for Human Rights war monitor said the explosions were heard in the area between Masyaf and Wadi al-Uyoun near Hama city.

According to RT in Arabic, two people were killed in the attack and at least five were wounded.

The Lebanon-based and Hezbollah-affiliated Al Mayadeen news channel also reported the airstrikes, while another report issued later from Syria said that the strikes had been aimed at Iranian targets.

According to opposition officials, the targets included a center for scientific research in the Masayaf area, a storage warehouse for scientific research, and other security-related facilities.

SANA said Syrian air defences confronted and downed several rockets fired by Israeli planes near the city of Hama on Tuesday.

"Air defenses downed a number of rockets fired by the Israeli enemy in the Wadi al-Uyoun area in the Hama countryside," SANA said.

Citing a military source SANA said that Israeli aircraft had targeted "our military positions in the provinces of Tartous and Hama".

"The enemy missiles were dealt with and some of them were shot down," SANA said.

Footage of Israel's alleged strike

The Syrian Observatory for Human Rights head Rami Abderahman said the attack had also targeted around the coastal city of Baniyas for the first time, with two rockets hitting around one kilometre from an oil refinery.

An Israeli military spokeswoman declined to comment on the report.

Syrian state television said air defences downed five rockets.

SANA said the planes had come at a low altitude from west of neighbouring Lebanon's coastal capital Beirut.

Al-Mayadeen news said Israeli fighter planes released countermeasures against anti-aircraft fire "and withdrew towards the sea at the same time as the sounds of explosions were heard in Hama countryside."

The alleged strike comes days after Syrian state media said loud blasts coming from an airbase early on Sunday were from an explosion at an ammunitions dump caused by an electrical problem, but an official in the regional alliance backing Damascus said they were from Israeli strikes.

Opposition leaders claimed that a weapons depot situated in the Mezzeh airbase in the capital belonging to Syrian President Bashar Assad's army was the target of the the attack.

The airbase has been targeted in a number of airstrikes in recent years that the government has blamed on Israel.