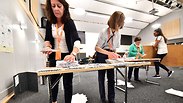 Elections in Sweden
Photo: EPA
Sweden headed for a hung parliament after an election on Sunday that saw support for the nationalist Sweden Democrats surge, as one of Europe's most liberal nations turned right amid fears over immigration.

Far-right parties have made spectacular gains throughout Europe in recent years as anxieties grow over national identity and the effects of globalisation and immigration following armed conflict in the Middle East and North Africa.

In Sweden, an influx of 163,000 asylum seekers in 2015—the most in Europe in relation to the country's population of 10 million—has polarised voters and fractured the long-standing political consensus.

With almost all districts having reported, the ruling center-left Social Democrats and Greens and their Left Party parliamentary allies had 40.6 percent of the vote, while the opposition center-right Alliance was at 40.3 percent.

That gave the center-left 144 seats in the 349-seat parliament against 142 for the Alliance, suggesting weeks of uncertainty before a workable government can be formed.

The Sweden Democrats, a party with roots in the white supremacist fringe, won 17.6 percent and 63 seats, up from 12.9 percent and 49 seats in the last election four years ago, the biggest gain by any party in Sweden's parliament, the Riksdag.

The results were largely in line with the conventional opinion polls tracked by Reuters in the run-up to the election but well below some online surveys that had predicted the Sweden Democrats could become the largest party.

While the results also fell short of leader Jimmie Akesson's predictions of 20 percent of the vote or more, he told a party rally it was nevertheless the winner of the election.

"We will gain huge influence over what happens in Sweden during the coming weeks, months and years," Akesson told party colleagues.

Akesson hopes his party, which wants Sweden to leave the European Union and freeze immigration, can play a decisive role in negotiations over forming a government.

He called on Ulf Kristersson, the center-right Alliance's candidate for the premiership, to choose between seeking support from the Sweden Democrats for an Alliance government or to accept another four years of Social Democrat Prime Minister Stefan Lofven.

Kristersson called on Lofven to resign, but rebuffed Akesson.

"We have been completely clear during the whole election. The Alliance will not govern or discuss how to form a government with the Sweden Democrats," he said.

The Sweden Democrats, shunned by all the other parties since entering parliament in 2010, have promised to sink any Cabinet that refuses to give them a say in policy, particularly on immigration.

Lofven said he would not resign and called for cross-party cooperation to resolve the political impasse.

"There is no side with a majority. Then it is only natural to work across the political divide to make it possible to govern Sweden," Lofven said.

Like other far-right parties in Europe, the Sweden Democrats worked to soften its neo-Nazi image in the lead-up to the election. The party symbol was switched from a flame thrower to a flower. Members known for making pro-Third Reich statements were pushed out.

It made its first mark in politics with municipal council seats in 2006, and since then slowly helped revise long-accepted social norms for what Swedes could say openly about foreigners and integration without being considered racist.

After drawing mostly middle class men throughout the years, the Sweden Democrats have been attempting to attract new audiences—women and the Swedish higher classes.

At the Swedish Democrat's election eve rally Saturday, party leader Jimmie Akesson criticized Lofven's government for "prioritizing" the needs of new immigrants the ones of Swedish citizens.

The election will add to concerns in Brussels as the European Union enters campaign mode ahead of the European Parliament election in May, which could give more voice to eurosceptic groups and thwart efforts at closer EU integration.

The record levels of asylum seeks in 2015 magnified worries about a welfare system that many voters already believe is in crisis, even though refugee numbers have fallen sharply since then.

Lengthening queues for critical operations, shortages of doctors and teachers and the failures of police to deal with inner-city gang violence have shaken faith in the "Swedish model", built on a promise of comprehensive welfare and social inclusion.

Akesson was jubilant as he addressed supporters a day later, declaring the estimated 14 parliament seats the Social Democrats picked up a victory other parties could not ignore in coalition negotiations.

"This party has increased and made the biggest gains. Everything is about us," Akesson said. "I am ready to talk with others."

Akesson has been claiming throughout the election campaign that the high number of immigrants has caused Swedish crime levels to rise, and jeopardizes the national healthcare system. He often says that the immigrants are to blame for the majority of them remaining unemployed.

Lofven has repeatedly said throughout his campaign that his party will not budge in the face of "hate and extremism."

"Again and again they reveal their racist and Nazi roots, and attempt to ruin the EU in a time we need cooperation more than ever," said Lofven.

Turnout in the election was reported at 84.4 percent, up from 83 percent in 2014.

Two and a half weeks ago, the World Jewish Congress launched a campaign against Sweden's Nordic Resistance Movement (NMR) participation in the elections, due to its neo-Nazi stands.

The NMR was set up in 1997 by former members of the White Aryan Resistance and employees of Folktribunen, a neo-National socialist magazine.

The group, which promotes openly racist and anti-Semitic views and vocally opposes non-white immigration to the country, is considered the figurehead for Sweden's white power movement. It aspires to create one Nordic nation with its neighboring countries.

NMR's members have been known to rally during Yom Kippur, and have never hidden their support of Hitlerite views. One of their declared goals is to "fight the world's Zionist elite."

"The NMR is a despicable movement, that has no place a resistance movement and certainly as a political organization," said Jewish Congress CEO Robert Singer.

"History has taught us what what these movements lead to, and that is why we will never stop fighting them," continued Singer.

The campaign was published in Swedish, in an attempt to turn to Swedish speakers around the world, and was accompanied by a series of videos and other political events run by the Jewish community.

Singer added that, "the World Jewish Congress will continue to support the Swedish Jewish community, and calls upon the state and government to outlaw neo-Nazi movements."

Membership in Nazi organizations is not illegal in Sweden and the NMR had a permit from the police to march and hold rallies.