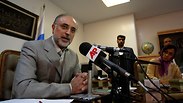 Iran's nuclear chief Ali Akbar Salehi
Photo: AP
Iran completes facility to build centrifuges
Iran's nuclear Chief Ali Akbar Salehi says Iran completed advanced hall for construction of modern centrifuges, as part of massive deal with undisclosed European nation; adds 'Trump can become a legend in his own lifetime if he manages to sign a new financial and political agreement with Iran.'
Iran has completed a facility to build advanced centrifuges, Iran's nuclear chief was quoted on Sunday as saying, as Tehran prepares to increase its uranium-enrichment capacity if the nuclear deal collapses after the United States exits.

In June, Ali Akbar Salehi, the head of the Atomic Energy Organization of Iran, said the facility at the Natanz nuclear plant would be completed within a month.

Salehi's statement in June came days after Supreme Leader Ayatollah Ali Khamenei said he had ordered preparations to increase the country's uranium enrichment capacity if the nuclear agreement with world powers collapsed.

On Sunday, the official news agency IRNA quoted Salehi as saying: "(Ayatollah Khamenei) had ordered us to set up and complete a very advanced hall for the construction of modern centrifuges, and this hall has now been fully equipped and set up."

Salehi said Iran's announced plans to build nuclear reactors for ships, while staying within the limits set by its atomic deal with major powers, was "advancing well but would take 10 to 15 years to complete", IRNA said.

"A third step (in reaction to the US withdrawal) might be to suspend some of the limitations within the nuclear agreement, for example on the volume and level of enrichment," Salehi said, according to IRNA.

"And the final scenario can be a complete exit from the nuclear accord, which I hope will never happen, with the help of (remaining signatories), because everyone would suffer," Salehi added.

Iranian officials have said they would decide whether to quit the 2015 nuclear deal after studying a planned European package of economic measures that could help offset US sanctions.

When asked what he thinks Trump was trying to achieve by withdrawing from the nuclear deal, Salehi replied that he believes Trump is attempting to reverse all decisions made by of his predecessor Barack Obama's, and "break the spirit of Iran."

"He has decided to sabotage the US relationship with Cuba, and hurt the Climate Deal," said Salehi.

"Trump has always believed that the nuclear accord was bad for the US and its allies in the Middle East, Israel and Saudi Arabia," he continued.

Following Iranian President Hassan Rouhani's statement on Saturday saying that the United States is continually sending messages to the Islamic republic asking it to begin negotiations, Salehi implied that Trump has a lot to gain from such a move.

"Trump understands Iran's power, and can become a legend in his own lifetime if he manages to sign a new financial and political agreement with it," Iran's nuclear chief opined.

Salehi also said that Iran was willing to discuss other matters alongside the nuclear deal but Supreme Leader Ayatollah Ali Khamenei refused, saying the US cannot be trusted since it breaks all of its promises. "Trump quitting the deal reinforces that decision," he said.

"Even prior to the nuclear deal, Khamenei approved sporadic talks with US officials. Iranian and US ambassadors secretly met in Baghdad," Salehi disclosed.

He added that Khamenei have said recently that the meeting between Iran's Foreign Minister Mohammad Javad Zarif and Former US Secretary of State John Kerry was a mistake, since he did not approve it personally.