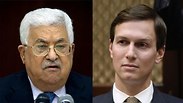 Jared Kushner and President Abbas
Photo: AP, MCT
Kushner: Palestinians deserved to lose US aid
Trump's son-in-law and special Mideast advisor says Palestinians have been vilifying the US administration and added that the millions of dollars given to UNRWA over the years had turned into a program of entitlement which did little to make Palestinians self-reliant; blasts 'too many false realities that people worship' that 'needed to be changed.'
President Donald Trump's son-in-law and Mideast advisor Jared Kushner said on Thursday that the Palestinian leaders deserved to lose US aid for their vilification of the current administration, adding that much of the funds allocated to the main UN Palestinian refugee agency had been misspent, according to a report in the New York Times (NYT).

"Nobody is entitled to America's foreign aid," he said.

Kushner argued that the series of measures recently taken to scrap US funding to the United Nations Relief and Works Agency for Palestine Refugees in the Near East (UNRWA) and to shut down Palestinian offices in Washington should not have a negative impact on the prospects of achieving a peace agreement with Israel.

According to Kushner, the aid that had been given to the Palestinians over the years had led the Palestinians into a false sense of entitlement without any plan to transform them into a self-reliant people.

With the US administration's determination to remove what he described as "false realities" that had governed the peace process throughout the decades, Kushner asserted that Trump had increased the chances for achieving peace.

"There were too many false realities that were created—that people worship—that I think needed to be changed," Kushner said.

"All we're doing is dealing with things as we see them and not being scared out of doing the right thing. I think, as a result, you have a much higher chance of actually achieving a real peace."

In August, Foreign Policy magazine reported that Kushner had been looking into the possibility of stripping the Palestinians in the West Bank and Gaza Strip of their refugee status, consequently removing the issue of a Palestinian right of return from the negotiation table.

The Palestinian refugee question has been a central sticking point in peace negotiations, with Palestinians insisting that approximately 5-6 million descendants of some 700,000 Palestinians who were made refugees during Israel's 1948 War of Independence be given the right to return to Israel.

Israel, however, says that such an eventuality would result in the demise of the Jewish state by tilting the demographic balance in the Palestinians' favor.

Speaking exactly 25 years after the Oslo peace accords were signed, Kushner refrained from heaping too much criticism on the agreements, but said that the current peace efforts under his direction represented a refreshing departure from past peace parameters.

Moreover, Kushner lauded his father-in-law for recognizing Jerusalem as Israel's capital and moving the US embassy there from Tel Aviv, saying that it demonstrated Trump's ability and desire to implement campaign promises.

Despite the Palestinians' stated refusal to cooperate with the US administration when it unveils its peace plan, Kushner said that they could eventually be brought to the negotiating table.

"In every negotiation I've ever been in," he said, "before somebody gets to 'yes,' their answer is 'no.'"

Kushner also said, according to the report, that hostile statements made Palestinian Authority President Mahmoud Abbas could be attributed to domestic political concerns and do little to deter the US administration from moving forward with its peace plan.

"If Mr. Abbas is a serious leader, Mr. Kushner said, he will study the administration's peace plan carefully after it is released," the NYT report said.

US Mideast envoy Jason Greenblatt, Kushner's partner in formulating a peace plan, said on Thursday that the Trump administration is prepared for Israeli criticism of elements of its coming peace blueprint, even as Washington faces growing Palestinian accusations that it will be heavily tilted in favor of Israel.