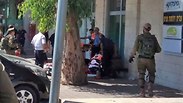 One person killed in terror attack in Gush Etzion
40-year-old Ari Fuld, father of 4, dies after being stabbed by a Palestinian teenager from a village near Hebron in terror attack at entrance of local mall, visited by Israeli and Palestinian residents; Fuld, who lived in Efrat, managed to shoot and neutralize his attacker.
A 45-year-old man was killed in a terror attack on Sunday after being stabbed at the entrance of a local Harim shopping center, visited by local Israeli and Palestinian residents.
The victim was identified as Ari Fuld, a father of four from the settlement of Efrat, a fighter in the Efrat emergency squad.
After being attacked by the terrorist, who was identified as 16-year-old Khalil Jabarin from the Palestinian village of Yatta near Hebron, Fuld gave chase and shot in his direction. A passerby eventually shot and neutralized the terrorist.
Shortly after being taken to Shaare Zedek Medical Center in Jerusalem, the Fuld was pronounced dead.
Efrat Local Council officials said that professional teams are accompanying the victim's family.
Dr. Alon Schwartz, a trauma surgeon at Shaare Zedek Center, said that Fuld was evacuated to the hospital after being critically wounded.
Fuld was a well-known English-language internet commenter on current affairs and the weekly Torah lesson. He was known for his nationalist ideology and strong support for the Israeli military.
He delivered care packages to Israeli soldiers and would go on solidarity trips to communities near the Gaza Strip during times of fighting with the Hamas militant group, Hasten said
Settler spokesman Josh Hasten, who said he had known Fuld for about a decade, said "When the rockets were falling, that's when he would get in his car and go down to Sderot."
"He was stabbed once in a rib cage on the right side of his back. There were no signs of life when he was brought in. We performed CPR and an urgent operation, unfortunately after 50 minutes of resuscitation attempts, we had to pronounce his death," the surgeon concluded.
Yatta was also a hometown of two terrorists who shot dead four people in a terror attack at the Sarona Market in Tel Aviv two years ago.
The shopping center where the attack took place has recently decided to close its parking lot to Palestinian vehicles due to a large number of terror attacks that occurred there over the recent past. In addition, Israeli troops were stationed at every traffic junction near the mall.
Scene of terror attack (צילום: אנשי הדממה)
The initial report about the attack was received at Magen David Adom Medical Center in Jerusalem around 11am. Paramedics provided medical treatment and evacuated a 40-year-old man, whose condition was described as unstable.
MDA teams at the scene said no further injuries were reported.
The police conducted a search of the mall in order to eliminate a possibility of involvement of additional terror elements.
Ofra, who works at the shopping center and witnessed the attack, said in an interview with Ynet that she heard the gunshots and quickly came down from the second floor to an area where the stabbing took place.
"People started shouting that someone should call the police. I called myself, and the operator asked me whether I can see anything, so I approached the scene of the attack in order to describe it as accurately as possible," she exclaimed.
"The terrorist was lying on the floor with one security guard grabbing his leg and another man holding his hand. The terrorist was yelling and cursing—and people tried to silence him," Ofra explained.
This mall has Arabs and Jewish visitors coming from Hebron and Bethlehem. This is the last place on earth where I would think a terror attack would happen. There is a sense of coexistence here," she added.
Gush Etzion Regional Council head Shlomo Naaman warned the local Arab residents that if such attacks continue, they will pay a price.
"Our Arab neighbors will have to answer a very simple question: Do they want to live with us here and behave like people, or do they choose an aggressive path that entails a heavy price?" wondered Naaman.
Scene of terror attack (צילום: באדיבות אנשי הדממה)
"We will not allow this to continue, the IDF will not allow it, the government will not allow it … eventually the victory will be on our side and the violent struggle against us will not pay off," he vented.
Several terror attacks were carried out in the area in recent past, with the most memorable being the murder of Nirit Zmora, who was stabbed to death by Hamza Faiz two and a half years ago.
Faiz, also a Hebron resident, was sentenced to 14 years in prison and will have to pay his victim's family NIS 500,000 in compensation.
A media storm surrounded the trial of Faiz, when judges Lt. Col. Zvi Heilbron, Lt. Col. Eti Adar, and Maj. Haim Balilty initially acquitted the terrorist of attempted murder, determining it was not possible to prove he had intended to murder Zmora, and convicted him instead of aggravated battery and of the illegal possession of a knife.
Associated Press contributed to this report.