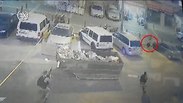 Scene of attempted terror attack
Photo: Israel Police National Spokesman
Palestinian attempts to stab worshiper, cops on Yom Kippur
Hour after Yom Kippur begins, policeman stationed in Jerusalem's Old City shoots dead a 26-year-old terrorist from Qalandiya who charges at Jewish man on holiest day of Jewish calendar with a screwdriver, before running at a group of policemen.
Police shot and killed a Palestinian terrorist on Tuesday evening who attempted to carry out a stabbing attack against a Jewish man and police officers near Jerusalem's Old City during the festival of Yom Kippur.

Police opened fire when the Palestinian man charged at his intended victim—a Jewish worshiper—with a screwdriver on HaNevi'im Street at 7pm, shortly after Yom Kippur began, the holiest day of the Jewish year during which Jews fast for 25 hours.

No one was injured in the attempted attack carried out by the 26-year-old terrorist from Qalandiya.

"As part of the extensive preparations for the eve of Yom Kippur, policemen stationed on the route used by worshippers spotted the attacker running toward a Jew, attempted to harm him and bypassers tripped him up," a police statement said.

Scene of attempted terror attack (צילום: דוברות המשטרה)

"Afterward, he continued to run at police officers while brandishing a sharp object in his hand at them to stab the officers. The police acted immediately and with determination and neutralized the attacker," concluded the statement.

According to police, he remained in Israel illegally, thereby breaching a closure imposed around the West Bank for the duration of Yom Kippur as part of beefed-up precautionary security measures.

Also on Tuesday, Gaza's Health Ministry claimed that two Palestinians were killed and at least 46 wounded by the IDF fire in the northern Gaza Strip during violent demonstrations which took place on Yom Kippur.

The IDF said hundreds of Gazans participated in the riots, burning tires and throwing explosive devices and rocks at the soldiers. In one incident a grenade was thrown at the troops, prompting the forces to respond with crowd dispersal measures in accordance with IDF's open-fire regulations.

Israel began placing a closure around the West Bank overnight Monday while shutting the Erez and Kerem Shalom border crossings between Israel and the Gaza Strip ahead of Yom Kippur—the Jewish holiday of atonement and repentance.

The precautionary measure, which was also accompanied by the presence of beefed up security forces in various locations, took place against a background of heightened fears of terror attacks during the Jewish festivals on the month of Tishrei, particularly in the wake of Sunday's deadly stabbing attack on 45-year-old Ari Fuld.