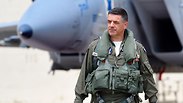 Israel's air force Chief Major-General Amikam Norkin
Photo: IDF Spokesperson's Unit
Israel to present findings in Moscow over downing of Russian plane
Following Netanyahu's offer to President Putin to provide 'all necessary information' to help investigate shooting down of Russian plane, IAF chief flies to Russian capital to prove Syrian army's anti-aircraft batteries fire led to tragic incident.
Israeli Air Force chief Maj. Gen. Amikam Norkin, will present on Thursday findings in Moscow related to an incident in which a Russian military plane was downed off Syria's coast, Israel's military said.

Syrian President Bashar Assad's forces accidentally shot down a Russian military aircraft following a missile strike on the Syrian coastal city of Latakia that was immediately attributed to the Israel Air Force. Israel took responsibility for the attack shortly after.

Israel on Tuesday blamed Syria, and according to the investigation carried out by senior security and political officials, the Syrian army's anti-aircraft batteries "fired indiscriminately" and failed to ensure that no Russian planes were in the air.

The IDF added that its planes had already returned to Israel, when Assad's army launched the missiles which downed the Russian plane.

The army said Norkin and other senior officers would "present the situation report of the event regarding all aspects, including the pre-mission information and the findings of the IDF inquiry."

The incident initially appeared likely to cause friction between two countries that back opposing sides in Syria's complex civil war, with the head of the defence ministry in Moscow accusing Israel of indirectly causing it.

But President Vladimir Putin, who spoke to his Israeli Prime Minister Benjamin Netanyahu by phone on Tuesday, then called it "a chain of tragic chance events" although he added that Russia needed to "seriously get to the bottom of what happened".

Israel's military said on Tuesday its fighter jets had targeted a Syrian facility it said was about to transfer weapons to Hezbollah on behalf of Iran, and that when the plane was downed, the Israeli jets "were already within Israeli airspace".

Netanyahu said Syrian forces were to blame and offered Russia "all necessary information" to investigate.

Since intervening in Syria in 2015, Russia has usually turned a blind eye to Israeli attacks. Israeli officials say the country's military has carried out about 200.

The military statement said the Israeli delegation would "present the continuous Iranian attempts to transfer strategic weapons to Hezbollah .... and to establish an Iranian military presence in Syria."

"Israel will forward Russia all the information needed to complete the investigation and support what has been concluded by the IDF's investigation," the military said.