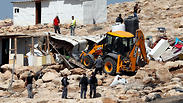 Bulldozers move in to village
Photo: AFP
8 EU countries urge Israel to reconsider village demolition
Read by Dutch ambassador outside the UN, statement rebukes HCJ for September 5 decision to demolish Khan al-Ahmar Bedouin village which Israel says was illegally built; 'We will not give up on a negotiated two-state solution with Jerusalem as a capital,' statement says.
Eight European Union nations are underlining their opposition to Israel's planned demolition of the illegally-built Bedouin village of Khan al-Ahmar and are urging its government to reconsider the decision.

The statement was read by Dutch Ambassador Karel Van Oosterom outside the UN Security Council on Thursday. It rebuked the Israeli High Court's September 5 decision to demolish the desert community.

The High Court of Justice (HCJ) rejected an appeal against the demolition of the village in the West Bank, ruling that its stay would expire in a week and the spartan encampment could then legally be torn down


The eight countries are France, Netherlands, Poland, Sweden, United Kingdom, Belgium, Germany and Italy. They say in the statement that they "will not give up on a negotiated two-state solution with Jerusalem as a capital" of both Israel and a new Palestinian state.

That was an implicit slap at US President Donald Trump's declaration in December that contested Jerusalem is the capital of Israel.

Israel claims the village, an encampment of corrugated shacks outside the Kfar Adumim settlement, was illegally built and has offered to resettle residents 12 kilometers, about 7 miles, away. But critics say it's impossible for Palestinians to get building permits and that the demolition is meant to make room for an Israeli settlement.

The three HCJ judges hearing the appeal said they were presented no evidence to warrant overturning the previous verdict and there was no question over the illegality of the construction on the site.

Defense Minister Avigdor Lieberman lauded the judges for their "brave" ruling.

"No one is above the law. No one can stop us from implementing our sovereignty and responsibility as a state," he said.

Immediatedly after the HCJ decision, an EU statement was published criticizing the planned demolition.

"The EU and its Member States have repeatedly stated their long-standing position on Israel's settlement policy, illegal under international law, and actions taken in that context, including the demolitions of Palestinian communities and (possible) forced transfers of population," the statement said.

"The community of Khan al-Ahmar is located in a sensitive location in Area C, of strategic importance for preserving the contiguity of a future Palestinian state.

On September 13, Israeli security forces dismantled several shacks built by Palestinian protesters near Khan al-Ahmar.

Reuters and Ynet contributed to this report.