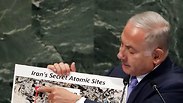 Netanyahu at the UN
Photo: AP
UN nuclear watchdog: All Iran sites examined
In apparent response to Netanyahu's speech at the UN, in which he revealed a 'secret atomic warehouse' in Iran, IAEA says 'All information obtained, including from third parties, is subject to rigorous review,' adding inspectors sent to suspected nuclear sites 'only when needed.'
The UN nuclear watchdog has said its independence is paramount and it does not take intelligence presented to it at face value, in an apparent response to Israeli Prime Minister Benjamin Netanyahu's description of a "secret atomic warehouse" in Iran.

"The agency sends inspectors to sites and locations only when needed. The agency uses all safeguards relevant to information available to it but it does not take any information at face value," International Atomic Energy Agency chief Yukiya Amano said in a statement on Tuesday.

Amano's statement made no specific reference to Israel or the statement but it is his first public pronouncement since Netanyahu's speech at the United Nations General Assembly last week.

He said the IAEA has carried out so-called complementary access inspections, which are often at short notice, at all locations in Iran it has needed to visit.

"All information obtained, including from third parties, is subject to rigorous review and assessed together with other available information to arrive at an independent assessment based on the agency's own expertise," Amano said.

"In order to maintain credibility, the agency's independence in relation to the implementation of verification activities is of paramount importance," he added.

During a speech at the UN, Netanyahu revealed "another secret atomic facility" in Iran, some four months after he presented what he said was "conclusive proof" of a secret project underway in Iran for the development of nuclear weapons.

"What I'm about to say has not been shown publicly before ... Today I'm revealing the site of a second facility, Iran's secret atomic warehouse," he said.

Netanyahu speaks at the UNGA (צילום: UN Web TV)

The new site Netanyahu identified sits a short distance from Shourabad, where the Mossad pinched a trove of documents and evidence showing that Iran had archived its nuclear materials despite the nuclear deal.

"When I spoke here 3 years ago Israel stood alone among the nations. Of the nearly 200 countries that sit in this hall, only Israel openly opposed the nuclear deal with Iran. We oppose it because it threatens our future, even our very survival," the prime minister said.

"We opposed it because the deal paved Iran's path to a nuclear arsenal and the lifting of the sanction has fueled Iran's campaign of carnage and conquest throughout the Middle East. We opposed it because the deal was based on a fundamental lie … Israel exposed that lie."

Continuing what has become a traditional characteristic of presenting visuals during his UN speeches, Netanyahu said "Let me show you exactly what the secret atomic warehouse looks like. Here it is," while holding up a picture of satellite and up-close images.

According to Netanyahu, the second secret site was right near a rug-cleaning store, which he quipped may now be radioactive.

The prime minister also claimed the site contained some 15kg (33 pounds) of radioactive material that has now been moved as part of Iranian attempts to hide evidence of its nuclear weapons program.

Iran dismissed Netanyahu's claims as laughable. "The world will only laugh loudly at this type of false, meaningless and unnecessary speech and false shows," said Iranian foreign ministry spokesman Bahram Qassemi said, according to Fars News.

Qassemi said Netanyahu's accusation was "not worth talking about."

"These farcical claims and the show by the prime minister of the occupying regime (Israel) were not unexpected," he added.

Iran's Foreign Minister Mohammad Javad Zarif said that there should be more scrutiny on Israel's nuclear program and derided the visuals presented by the prime minister.

"No arts & craft show will ever obfuscate that Israel is only regime in our region with a 'secret' and 'undeclared' nuclear weapons program—including an 'actual atomic arsenal,'" Zarif wrote on Twitter.

"Time for Israel to fess up and open its illegal nuclear weapons program to international inspectors," he added.