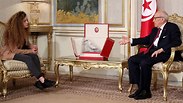 Tunisian President Beji Caid Essebsi and Ahed Tamimi
Photo: EPA
Tunisian President Beji Caid Essebsi hosted Tuesday Palestinian teen provocateur Ahed Tamimi, who was jailed in Israel late last year after she was filmed kicking and slapping an Israeli soldier in the West Bank.

"Hosting Tamimi symbolizes Tunisia's recognition of the just Palestinian struggle and its place in the heart of the Tunisian people," President Essebsi was quoted as saying.

Tamimi's meeting with President Essebsi took place on the 33rd anniversary of Operation Wooden Leg, in which Israeli Air Force planes bombed the Palestine Liberation Organization's (PLO) headquarters in Tunisia, killing dozens of people.


The Tunisian leader emphasized his country's support of the Palestinians and recognition of the Palestinian fight to establish a sovereign state with east Jerusalem as its capital.

Tamimi was personally invited to Tunisia by President Essebsi and landed in the country on Monday, following her visit to Spain where she was hosted by the Real Madrid soccer team. During the visit she was presented with the club's shirt bearing her name by the retired Spanish striker, Emilio Butragueño.

According to the Tunisian president's office, Tamimi personally thanked Essebsi for the invitation.

Later on Tuesday, the 17 year old will be attending a ceremony honoring her and her family.

Tamimi, who was released in July after serving an eight-month sentence, along with her mother, Nariman—who was also arrested during the assault on the IDF officer last December for filming the incident and posting it on Facebook—became a heroine to Palestinians after the incident outside her home in the village of Nabi Saleh. Tamimi was 16 at the time.

Tunisian President Beji Caid Essebsi meets Ahed Tamimi

At the beginning of September, the Turkish news agency Andaolu reported that Israel had imposed a ban on Tamimi and her family from traveling abroad.

Bassem Tamimi, the girl's father, told the news agency that his family had planned to travel to Europe after crossing into Jordan and participate in events during which they would discuss Tamimi's imprisonment in an Israeli jail.

According to Bassem, the Palestinian authorities informed the family that Israel will not authorize them to leave their country. Their departure was scheduled for this Friday. No explanation was provided, the family said.