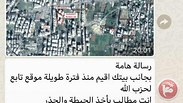 Beirut residents warned about a Hezbollah site in Whatsapp message
Thousands of Dahieh suburb locals receive mobile phone notifications warning them that Iranian-backed terror organization hides weapons storage compound in the area; messages advise Lebanese residents to 'proceed with caution'; Asharq al-Awsat newspaper implies Israel is responsible for incident.
Thousands of residents of the Dahieh suburb south of Beirut, an area controlled by Hezbollah, received anonymous mobile phone notifications warning them they live in close proximity to a weapons storage compound that has the potential of exploding at any moment, the Asharq al-Awsat newspaper reported on Wednesday, implying Israel is responsible for incident.

"Important message, near your home, a Hezbollah site has been established, proceed with caution," read the mysterious Whatsapp message.

According to the Arab newspaper, Israeli political sources refused to comment on the claim that Israeli intelligence is behind the messages.

Prime Minister Benjamin Netanyahu, speaking at the United Nations last week, identified three locations near Beirut airport where he said the Shi'ite group Hezbollah was converting "inaccurate projectiles" into precision-guided missiles.

Immediately after the prime minister's speech at the UN General Assembly, the IDF released video evidence of what it said were Hezbollah rocket building sites in Beirut.

Netanyahu said in his speech that Hezbollah was acquiring the technical know-how from Tehran to convert non-precision missiles into precision missiles to hit Israeli cities with an accuracy level of 10 meters.

The IDF said Hezbollah also has other sites within and outside of Beirut where its members have been working to create an infrastructure intended to stockpile precision missiles in the future.

According to the military's intelligence, one of the sites is located inside a Hezbollah soccer stadium while another is adjacent to the Beirut–Rafic Hariri International Airport.

One of the attempts to transfer machines designed to convert precision rockets from Syria to Lebanon was thwarted by the IDF in an attack on September 17 in Latakia, which resulted in the downing of the Russian spy plane by the Syrian army sparking an international crisis due to Russian military's claims that the IDF bears responsibility for the incident.

On Monday, Lebanese Foreign Minister Gebran Bassil, spoke to foreign ambassadors before taking them on a tour of the area mentioned in the prime minister's UN speech, where Bassil reiterated that there were "many statements ... affirming the possession of accurate missiles by Hezbollah. However, this does not mean that these missiles are present in the vicinity of Beirut airport." he stressed in an apparent attempt to dismiss Netanyahu's claims.

Bassil, a political ally of Hezbollah, said Israel aimed to "falsify facts concerning Lebanon and to vocalise lies that carry the seeds of a threat that does not frighten us, and that Netanyahu had used the platform of the UN General Assembly "to justify another aggression on a sovereign country like Lebanon," he vented.

Reuters contributed to this report.