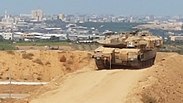 IDF forces on the Gaza border
Photo: Yoav Zitun
IDF Chief of Staff Gadi Eisenkot decided Thursday to send reinforcements to the Southern Command amid the high tensions on the Gaza border.

As the security situation on the Gaza border continues to deteriorate, Eisenkot held a situation assessment with the IDF's top generals as well as senior Shin Bet officials, at the end of which it was decided on a wide-scale deployment of additional troops in the south over the next few days.

The IDF said in a statement that the decision was made "to continue the determined policy to thwart terror attacks and prevent infiltrations into Israel in the border fence area of the Gaza Strip. The IDF is prepared and ready for a variety of scenarios and considers the Hamas terror organization responsible for everything that happens in and from the Gaza Strip."

In excerpts from an interview Hamas leader Yahya Sinwar gave Yedioth Ahronoth, he asserted that "A new war is in no one's interest, certainly not our interest. Who really wants to confront a nuclear superpower with four slingshots? War doesn't achieve anything."

The interview with journalist Francesca Borri will be published in full on Friday in both Yedioth Ahronoth and Italian newspaper La Repubblica.

"I'm not saying I won't fight anymore. I'm saying I don't want any more wars," Sinwar told Borri. "What I want is an end to the siege. My first commitment is to act in the interest of my people; to protect them and to defend their right for freedom and independence."

A 15-year-old Palestinian teen was shot dead Wednesday evening during clashes between Palestinian rioters and IDF forces near the Erez border crossing in the northern Gaza Strip.

Over a 1,000 Palestinians protested in several different spots along the border fence, throwing stones at IDF forces and setting fire to tires.

The Israeli troops responded with crowd dispersal measures, with the IDF saying the soldiers "are acting in accordance with the rules of engagement."

Meanwhile, a Hamas delegation headed by the terror group's deputy leader Saleh al-Arouri returned Wednesday after four days of discussions in Cairo with top Egyptian intelligence officials.

The discussions revolved around both the reconciliation with Fatah—a rival Palestinian faction led by Mahmoud Abbas—and an arrangement in Gaza, which would include a ceasefire agreement with Israel. It is unclear what the outcome of these discussions was.

In recent weeks, there has been a spike in Palestinian rioting in Gaza, as well as in the launch of incendiary balloons and kites.

On Monday, some 4,000 Palestinians rioted in northern Gaza, throwing stones and Molotov cocktails and launching fireworks at Israeli forces, who responded with crowd dispersal measures.

Over the last weekend, some 20,000 Palestinians rioted in several spots along the Gaza border. Seven Palestinians were reported killed from IDF fire during those clashes, including three teenagers aged 12, 14 and 18. The IDF said it had attacked a Hamas position.