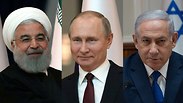 Left to right: Rouhani, Putin, and Netanyahu
Russia is attempting to establish channel of communication between Israel and Iran, the Saudi-owned pan-Arab newspaper Asharq al-Awsat reported Saturday.

According to the report, a Russian source said Moscow has begun investing efforts in promoting the move, which is meant to "ease tensions in the area and lower the chance of friction" following the transfer of the S-300 anti-aircraft missile system to Syria.

On Wednesday, the Russian Defense Ministry released footage of the S-300 system arriving in Damascus.

On Tuesday, Russian Defense Minister Sergei Shoigu informed Russian President Vladimir Putin that the S-300 system had arrived in Syria.

Footage showing S-300 system transfer to Syria (צילום: משרד ההגנה הרוסי)

"The work was finished a day ago," Shoigu said to Putin. He also added that it will take three months to train Syrian personnel to operate the system.

"The equipment transferred includes 49 unit of military gear, among them radars, operation systems and four launchers," Shoigu added.

Russia announced last week that it would supply the anti-aircraft missiles after Syrian forces responding to an Israeli airstrike in the coastal city of Latakia two weeks ago mistakenly shot down a Russian military reconnaissance plane, killing all 15 people on board.

Russia views Israel as the responsible for the downing of the plane. Moscow claims Israel has misled it about its attack zone and did not inform the Russian air force enough time in advance about the strike.

While speaking with Prime Minister Benjamin Netanyahu on a the phone, Putin said that Russia's actions "are aimed at protecting its military."

During a press conference held on the sidelines on the United Nations General Assembly last weekend, Shoigu said that the surface-to-air missile system would be delivered to Syria, despite Israel's requests not to provide the embattled country with the system due to Israel's activity in the area.

Addressing the S-300 system transfer to Syrian soil, US State Department spokeswoman Heather Nauert said that it would cause "a serious escalation in concerns and issue going on in Syria."

She added that the US cannot yet confirm that the system in fact arrived in Syria.