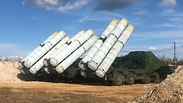 S-300 batteries
Photo: EAP
Russia has given Syria three S-300 anti-aircraft battalion sets—with eight launchers and more than 100 surface-to-air guided missiles each—for free, according to a report in the Russian news site TASS on Monday.

According to a Russian military diplomatic source, the systems delivered to Syria were previously deployed at a Russian air force battalion that now uses the more advanced S-400 systems.

"The S-300 systems underwent capital repairs at Russian defense enterprises, are in good condition and are capable of performing combat tasks," the source told TASS.

Over the past two weeks, Russian cargo planes have been transporting logistical equipment and ammunition for the S-300 system to the Russian military base near Latakia in Syria.

Over the weekend, an ImageSat International ISI satellite took pictures of one of the massive Russian cargo planes on the runway at the Khmeimim Airbase.

According to Russia's Defense Minister Sergey Shoygu, Russia has supplied Syria with 49 pieces of equipment for the S-300 system, including radars, control vehicles, and four launchers.

Shoygu said Syrian forces will be trained to operate the system within three months.

Syria signed an agreement to buy the S-300 system from Russia eight years ago, but the deal has been frozen since, thanks in part to pressure from Israel.

But after a Russian intelligence plane was accidentally shot down by Syrian air defense when Israel was carrying out an attack in the country, Russia's Defense Minister Shoygu decided to provide Damascus with the advanced system.

The S-300 can shoot down planes, medium-range ballistic missiles and cruise missiles.