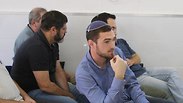 Arik Lubarsky
Photo: Amit Shabi
Slain soldier's family boycotts terrorist's trial
Family of Ronen Lubarsky, an elite Duvdevan unit soldier who was killed during an operation near Ramallah, is boycotting the trial of assailant saying the state ignores their petition to enforce death penalty: 'we ask for a legitimate existing penalty in military law… it could prevent future terror attacks.'
Arik Lubarsky, the brother of the Ronen Lubarsky, an IDF soldier who was murdered by a terrorist near Ramallah, said during an interview with Ynet Tuesday that his family had decided to boycott the trial of the terrorist.

"We only asked for a legitimate and not unreasonable request—to be given the option of capital punishment, an existing military law penalty, by appointing a suitable panel of judges. Our request was completely ignored," he explained.

Lubarsky, an elite Duvdevan Unit soldier, was killed in May during an operation in the al-Am'ari refugee camp near Ramallah. The army arrested Islam Yusuf Hamid, who threw a marble slab on the soldier's head.

In August, his father, Vladimir Lubarsky, asked the trial's judges to give the defendant a death penalty, claiming that "Only death penalty will stop the terrorists."

About two weeks ago, Prime Minister Benjamin Netanyahu met with the Lubarsky family , that urged him to appoint a senior panel of judges in order to impose the death penalty on the terrorist, but Netanyahu said he cannot intervene in the court's decision.

"Despite the fact that a panel of judges has been decided upon, we asked the prime minister to make changes to it since we heard no objection to the death penalty from cabinet members or from senior officials," said Ronen's brother, Arik.

"We met with a wide array of people, including the defense minister and the prime minister, we even met with the IDF military advocate general, but none of them openly expressed an opposition to the death penalty. On the contrary, we heard voices in favor of capital punishment, but no one explained why no progress on the matter has been made, they shift the responsibility from one person to the next. The terrorist himself has been in prison for several years, his entire family is in prison for murdering Israelis," he elaborated.

"This is a terrorist who did not commit this crime in a haphazard way, but planned the attack. A panel judges consisting of three lieutenant colonels is a legitimate panel. We've seen this kind of panels before. This does not mean that the terrorist will receive the death penalty, but at least the capital punishment will be on the table.

"Regardless of the difficulties and complexities we encounter, we wanted to continue our fight, because we believe the death penalty is just, true, and can prevent the next terror attack," Arik stated.

Arik added he estimates the terrorist will not receive the death penalty.

"The panel of judges chosen is not suitable. According to the best case scenario, the terrorist will probably get a life sentence and enjoy prison conditions, maybe even get a degree. This hurts, because a terrorist is an enemy… I do not understand why he is even on trial. He should die in the battlefield, he may also be released in one prisoner exchange deal or another and resume his murderous plans, as has already happened many times before," he went on to say.

Addressing his domestic situation, Arik said that his family is "trying to recover, go back to routine, to make something good out of this horrible ordeal, to commemorate Ronen, to do something positive.

"There are difficult moments, a lot of difficult moments. However, we are moving on, we advance. He will always stay with us, in our thoughts and hearts," he concluded.