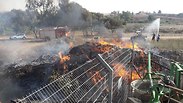 Fire in Kibbutz Gevim area
Four fires broke out in the Shaar HaNegev Regional Council on Wednesday as a result of incendiary balloons flown from Gaza into Israel.

One of the fires caused minor damage to farming equipment and to a fence. In all cases, firefighters arrived at the scene on time and were able to gain control of the fire.

In addition, several balloons affixed with explosives were found in the Gaza border area.

Police sapper neutralizes explosive balloon

Residents on the Gaza border have expressed concern in light of the increase in arson terrorism and in the rioting on the border.

"There's no doubt we're seeing a surge in incidents, with more explosive balloons," said a security official in the area. "The situation is very concerning, and there hasn't been a change in six months."

He cautioned residents not to touch the explosive balloons, which at times look like toys.

According to data received from KKL, over the past six months 11,920 dunams (some 3,000 acres) of farmland and woodland were burned in fires caused by incendiary kites and balloons flown from Gaza into Israel.

Forests in the Gaza border area saw 1,053 fires that consumed countless of trees. The majority of the conflagrations erupted in the Be'eri forest, which suffered 452 fires, while 353 fires broke out in the Kissufim Forest.

The Shokeda Forest saw 75 fires, while 31 fires erupted in the Hannun Forest and 29 fires scorched the HaBesor Stream Forest.

Many trees were significantly damaged and their rehabilitation is expected to take years. Furthermore, hundreds of wild animals perished in the fires.