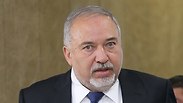 Avigdor Lieberman
Photo: Alex Kolomoisky
Defense Minister Avigdor Lieberman announced on Thursday that he intends to have the government approve on Sunday the construction of 31 new apartment units in the Hezekiah neighborhood of the West Bank city of Hebron.

Lieberman tweeted that the recently approved plan includes new housing, kindergartens and public spaces. "We continue to strengthen the Jewish settlement in the West Bank with actions, not words," he added via his social media account.

MK Stav Shaffir (Zionist Union) criticized Lieberman's announcement: "Instead of security—political impotence." She accused the defense minister of providing favors to an "extremist minority that is endangering the entire country."

"Netanyahu and Lieberman did not eliminate Hamas as they promised, on the contrary. Terror attacks continue, the south is under fire, there is no solution to Gaza and the West Bank," she wrote.

A month and a half ago, the Civil Administration's planning committee approved the construction of 984 apartments in the West Bank settlements. They will be built in Barkan, Nofim and Tzufim in the northern West Bank, among other locations.

384 units have already received final approval while the remainder are in the midst of various stages of approval.

The units which received final approval include: 56 in Barkan, eight in Avnei Hefetz, 168 in Nofim, 108 in Tzofim and 44 in Ma'ale Adumim. Other units are in Kiryat Netafim, Otniel and Bet El.