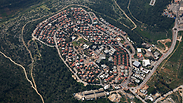 West Bank settlements
Photo: Ilan Arad, lowshot.com
A construction of 984 housing units in Jewish settlements in the West Bank were approved by the Supreme Planning Committee of the Civil Administration on Tuesday.

Nearly 384 units that are expected to be constructed have already received a final approval—56 in the settlement of Barkan, 168 in Nofim, 108 in Tzofim, 44 in Ma'ale Adumim and eight in Avnei Hefetz.

The remaining units—in Kiryat Netafim, Otniel and Beit El—are at a deposit stage of planning and will be approved in the upcoming future.

The proposal by Defense Minister Avigdor Lieberman to build hundreds of housing units in the settlement of Adam following a deadly terror attack there a few weeks ago, is not included in the current plan.

The Yesha Council—an organization of municipal councils of Jewish settlements in the West Bank—expressed disappointment over a number of housing units, which they believe to be 'insufficient.'

"This is an insufficient amount and the smallest number of housing units approved in the last year and a half. In the previous committees, the number of building permits ranged from 2,000 to 3,000, which is also relatively limited compared to a total number of permits throughout the country, which are in their tens of thousands," read the organization's official statement.

"We are calling on Prime Minister Benjamin Netanyahu to remove the restrictions and order a large-scale construction throughout the West Bank ... This is something that is required to be done today," the statement concluded.

Peace Now criticized the housing units' approval and urged the government to prioritize the issues surrounding the national housing crisis.

"Instead of solving the housing crisis in Israel, the government prefers to deprive most of its citizens and nurture a welfare state located beyond the green line. The move gives a boost to the annexation plans of the pro-settler movements and undermines the chances for peace," stressed the statement.

In May, Defence Minister Avigdor Lieberman, said he plans to seek approval for the construction of some 3,900 new homes in Jewish settlements in the West Bank, in more than 30 communities throughout the area.