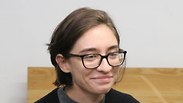 Lara Alqasem
Photo: Motti Kimchi
The court rejected on Friday the appeal of Lara Alqasem, a US student who has been barred from entering the country because of alleged involvement in the BDS, a Palestinian-led boycott movement against the state.

Alqasem has until Sunday to decide whether to appeal her case to the Israeli Supreme Court or to leave the country, said her lawyer, Yotam Ben-Hillel. In the meantime, she will remain in detention.

"The call for participation in a boycott against the state is likely to be considered as encouragement to participate in illegal activity .... There is no dispute that between 2014 and 2017, Alqasem was a member of a student organization and for two years served as its president," Justice Erez Yekuel explained in his ruling.

Alqasem, 22, arrived in Israel on Oct. 2 with a valid student visa to pursue her graduate studies at Israel's Hebrew University. But she was stopped at the airport and barred from entering the country because of alleged involvement in the BDS movement, which calls for boycotts, divestment and sanctions against Israel. She has been held in detention at the airport since, though Israel says she is free to return to the US at any time.

The graduate student, from Southwest Ranches, Florida, has argued that she is no longer involved in the movement. But Israel's Strategic Affairs Ministry, which leads the country's efforts against BDS, is unconvinced and has demanded that she apologize and pledge not to resume her past activities.

Strategic Affairs Minister Gilad Erdan welcomed Friday's decision.

"The court clearly declared that a state has the right to protect itself not only in matters of security, but also to fight boycotts against its products, culture or standing. I will continue to fight with everything available against those who try to harm Israel and its citizens," he said in a statement

"The judge emphasized that the decision will not deter foreign students in the future, since not every student heads a branch of a boycott organization and then cover its activity on social media," Erdan added.

Alqasem, whose father is Palestinian, is a former president of the University of Florida chapter of Students for Justice in Palestine. The group is a branch of the BDS movement.

BDS supporters say that in urging businesses, artists and universities to sever ties with Israel, they are using non-violent means to resist unjust policies toward Palestinians. Israel says the movement masks its motives to delegitimize or destroy the Jewish state.

Last year, the Knesset enacted a law banning entry for any foreigner who "knowingly issues a public call for boycotting Israel." It's come under heavy criticism for its handling of Alqasem's case.

"We're talking about someone who simply wants to study in Israel, who is not boycotting anything," said her lawyer, Ben-Hillel.

"In reality, she was a member of a small group, SJP, who at its peak numbered eight people. There are no public calls for a boycott. You created a demon. She was accepted to university, paid money, received a visa and came to study at the Hebrew University," he argued.

Former professors have described the American student as a curious and open-minded student. Jewish groups in the United States as well as the Hebrew University itself have come to her defense.

According to a statement issued by The Hebrew University, "Alqasem decided to study and live in Israel in violation of the boycott's principles, and even declared her opposition to BDS. We believe that the ministers' decision does not advance the struggle, and even harms the efforts of the Israeli academy to attract students and researchers from around the world."

Erdan slammed the position of the Hebrew University and said that "it is unfortunate that the university has not yet learned the case of the founder of the boycott movement, Omar Barghouti , a graduate of Tel Aviv University, and does not understand the methods of the boycott."