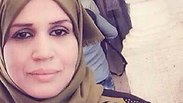 Palestinian woman killed after settlers reportedly pelted her with stones
Police launch investigation into incident in which Aisha al-Rawbi, 47, from the village of Biddya, was reportedly killed by Jewish settlers who hurled stones at a vehicle she and her husband were riding in near Tapuach junction.
Aisha al-Rawbi, 47, from the village of Biddya in the West Bank, was killed Friday on Route 60 after settlers reportedly hurled stones at a vehicle she and her husband were riding in near the Tapuach junction, according to the Palestinians. Rab's husband was also wounded.

The police have launched an investigation into the incident.

A general strike, which will include all public businesses and institutions, was declared Saturday in Biddya following al-Rawbi's death.

Prior to the incident, the Border Police, IDF and Shin Bet arrested the terrorist who carried out a stabbing attack outside the Samaria Territorial Brigade base in the West Bank on Thursday, in which an IDF reservist was moderately wounded and a civilian woman lightly hurt.

The perpetrator, a 19-year-old Palestinian from the village of Jamma'in south of Nablus, was taken in by the Shin Bet for further interrogation.

The terrorist stabbed the reservist, 32, who was standing at a bus stop. Soldiers and passersby then tried unsuccessfully to overcome the assailant.

Soldiers who were on the scene opened fire toward the fleeing terrorist, but he was able to escape. The soldiers' fire hit several nearby vehicles, and shrapnel from the shooting lightly wounded a woman from Elon Moreh.

Defense Minister Avigdor Lieberman praised the capture of the terrorist on his official Twitter account.

"An exceptional intelligence and operational work resulted in the capture of the terrorist. This allows us to redirect all the efforts into capturing the abominable murderer from the Barkan attack, with whom we will settle the score soon as well," he wrote, referring to the manhunt for the perpetrator who shot dead Kim Levengrond Yehezkel and Ziv Hagbi at the Alon recycling factory last week.

The IDF said in a statement that the forces are still in pursuit of Ashraf Na'alwa, who carried out the attack in the Barkan industrial area.

The statement added that a number of suspects had been arrested in connection with the Barkan attack in the area of the Menashe Regional Brigade. In addition, during the search for illegal weapons conducted by the IDF and Border Police in the village of al-Benyamin, a gun had been found.