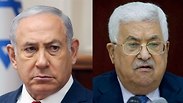 Abbas and Netanyahu
Photo: AP
Trump's envoy reveals plan to unite Gaza and West Bank
Jason Greenblatt stresses US is involved in the Israeli-Palestinian conflict 'to help all Palestinians, in both the West Bank and Gaza,' and slams 'disinformation being spread by some parties who have not even seen the plan yet wish to be spoilers.'
The White House's peace plan entails intentions to unify the West Bank and the Gaza Strip, Jason Greenblatt, US President Donald Trump's special envoy to the Middle East, told Ynet on Tuesday.

Palestinian media outlets claim that a key element of the yet-unreleased US peace plan is separating the Hamas-ruled Gaza Strip from the Fatah-ruled Palestinian Authority in the West Bank.




"Let's be clear about something: Gaza and the West Bank have been separated for 10 years, not only physically, but politically—between the Palestinian Authority and Hamas. It's absurd to deny that reality," said Greenblatt, who has been working on the plan for the past 19 months alongside senior administration officials, including Jared Kushner, a senior adviser and son-in-law of President Trump.

"In contrast, our peace plan intends to bring them together. Make no mistake; we are in this to help all Palestinians, in both the West Bank and Gaza. The type of disinformation being spread by some parties who have not even seen the plan yet wish to be spoilers does nothing to benefit ordinary Palestinian lives," he added.

"Once our plan is released, all parties should read it and judge it by its merits. The PLO should be a positive force to change people's lives for the better, and not try to sway people before they have even seen our plan," Greenblatt went on to say.

Though uncertainty prevails the Middle East, senior White House officials have recently said that the unveiling of the American peace plan is approaching.

US officials have noted in recent weeks that "the peace plan will not require Israeli security concessions, but Prime Minister Benjamin Netanyahu will have to demonstrate leadership and make difficult decisions."

According to the same sources, President Trump expects both Netanyahu and Palestinian President Mahmoud Abbas to positively respond to the American plan and start the negotiation process.

"Israelis on both sides of the political map, the extreme right and the extreme left, will find the plan to be quite logical," a senior US official added.

Prime Minister Benjamin Netanyahu at a Government Press Office (GPO) event (צילום: אלכס גמבורג)

At the onset of Knesset's winter session Monday, the prime minister emphasized that the obstacle to peace are the Palestinians, not Israel. Netanyahu also accused Abbas of indirectly supporting terrorism by providing payments to perpetrators and refraining from condemning terrorists.

"So far, I have not heard Abbas's condemnation of the cruel and shocking murder of Kim Levengrond Yehezkel and Ziv Hagbi," he bemoaned, adding that "the Palestinian Authority continues to finance these vile murderers. Abbas, who demands a Palestinian nation-state free of Jews … rewards those who murder Jews."

The prime minister continued to slam Palestinian president and addressed the latter's behavior at a Government Press Office (GPO) event. "Look at what President Abbas is doing. I mean, he's rewarding terrorists. Pay for slay. The more they kill, the more they get paid. In his law books there is a law that says that if you sell land to Jews—you'll be executed. Some peace and some coexistence," Netanyahu asserted.