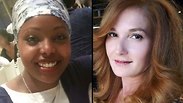 Domestic violence victims
Cycle of violence: 20 women murdered by relatives in 2018
The reported figure of women who became victims of domestic abuse is the highest it has been in the past five years; the government's national plan to combat phenomenon is yet to be implemented; WIZO official: 'Half a million children and 400,000 men and women are trapped in a cycle of violence.'
Angoach Malkmu Wasa and Aliza Shafak—two victims of violence who died in the last few days—are now part of the statistics—20 women have been murdered by their relatives in 2018, the highest figure reported in the past five years.

More than a year ago, the government has recognized the severity of the phenomenon and formulated a comprehensive national plan to prevent domestic violence. However, its implementation has not yet begun.




In the meantime, the cycle of domestic violence continues, and the solutions—which include ankle monitors, rehabilitating violent men, and establishing women's shelters—remain on paper.

"After murder cases are published, we face the dangers of 'contagion,' the seed sprouts from the fertile ground of a difficult social problem that is not dealt with," explained Rivka Neumann, the head of the Department for the Advancement of the Status of Women at the Women's International Zionist Organization (WIZO).

"200,000 families—half a million children and 400,000 men and women—are trapped in the cycle of violence. As we can see, this problem is not a top priority for the government," Neumann added.

One woman went on to describe her own experiences with domestic violence, talking about her daughter, who was murdered by her husband.

"When my daughter was murdered, what I hoped for most of all—with all the pain and suffering—is that she would be the last," says Ravit Sabag, whose son-in-law murdered her daughter and two grandchildren in early 2017.

"Every time I hear about another woman who was murdered by her husband, I say to myself: 'God, how does any of it make sense? Why doesn't it stop?' This day brings you back and you cry all day long," Sabag said.

Sabag addressed women who suffer from domestic violence and urged them to speak out against their abusers.

"I beg you, do not suffer in silence, talk, if my daughter had spoken one word, she would be alive today. You don't need to say much, just one word," Sabag stressed.

"In order to prevent the next murder, the punishment must be severe. We must impose the death penalty, and then we will see murders stop," she added.
70% of the victims complained
Chairman of the Knesset Committee on the Status of Women and Gender Equality, MK Aida Touma-Suleiman (Joint List), sent an urgent letter to Prime Minister Benjamin Netanyahu, in which she lists the names of the women who were murdered this year.

"Every name is a whole world, a woman full of hopes and dreams, with a family, parents and children whose lives were destroyed," she wrote.

"I appeal to you again and ask you to declare a state of emergency and make sure that the Ministry of Finance fully finances the five-year plan so that government ministries can start implementing the recommendations they have been working on for several years."

A high percentage of the victims are members of the Arab population.

Samah Salayama, the founder of Na'am (Arab women in the center) movement and an activist in the fight against domestic violence, says that 70 percent of murder victims complained to the police.

"They sought help from the authorities and the system failed them. If it's not shocking enough, let's look at what happens after the woman is murdered... There is no Jewish man who murdered a Jewish woman who does not pay his dues, and that's the way it should be. However, this is not the reality in the Arab sector, where more than 70% of the last decade's murder cases remain unsolved," she emphasized.

The multi-organizational Gun Free Kitchen Tables campaign links the murder cases with the proliferation of weapons in the public sphere, and warns against the consequences of the initiative proposed by Minister of Public Security, Gilad Erdan, to ease the government's restrictions for obtaining a firearm license.

According to Michal Gera Margaliot, director of the Israel Women's Network—a feminist non-partisan civil society organization, "twenty women have been murdered since the beginning of the year, and yet the biggest reform recently adopted in relation to civilian firearms does not protect women, but potentially expands the number of citizens who carry arms by 600,000, despite the fact that about a third of the victims in the past seven years have lost their lives due to guns."

Na'amat chairperson Galia Volokh says that the social problem that leads to the murder of women begins at a young age.

"It stems from education that excludes women and reduces their role, from sexism and sexual harassment, from the patriarchal approach that shapes masculinity in a distorted way and from power struggles between the sexes," Volokh explained.

In 2017, approximately 14,000 applications were processed in 113 centers and units for the prevention and treatment of domestic violence inside the community, funded and supervised by the Ministry of Social Affairs and Social Services.

In 2018, 686 women and 945 children stayed in 14 women's shelters.

An analysis of the factors prompting women to leave their homes and stay at shelters shows that 77% of the women suffer from extreme violence, 9% came to the shelter to make changes in their lives, 8% arrived at the shelter because of an external factor's intervention, about 5% of women in shelters left their homes to receive counseling and about 1.5% due to violence against children.

The Knesset Committee on the Status of Women and Gender Equality will hold a special session regarding murder and violence towards women on Wednesday.

The debate was initiated by MK Pnina Tamano-Shata (Yesh Atid).

"20 women were brutally murdered this year. The numbers speak for themselves. Unfortunately, the government did not draw the conclusions and did not implement the full recommendations that were collected over the years to eradicate this phenomenon…the government is obligated to implement an emergency plan in order to remove the obstacles and assist women who urgently need our help," she underlined.

If you suffer from domestic violence, please call the following hotlines:

• The Welfare and Labor Ministry hotline: 118

• WIZO hotline for assisting violent men: 1-800-393-904

• Na'amat center for the Treatment and Prevention of Domestic Violence: *3090

• No2Violence organization for fighting violence against women: 1-800-353-300

• Keshev service line for women in distress: 09-7747760 or 09-7412858