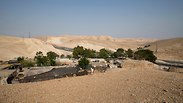 Khan al-Ahmar
Photo: Amit Shabi
The International Criminal Court's chief prosecutor has issued a warning that if Israel goes ahead and destroys a Palestinian Bedouin village on the West Bank that could constitute a war crime.

The Supreme Court recently rejected a final appeal against plans to demolish the village, Khan al-Ahmar.

In a statement Wednesday, ICC Prosecutor Fatou Bensouda says "evacuation by force now appears imminent."

Bensouda adds that the "extensive destruction of property without military necessity and population transfers in an occupied territory constitute war crimes" under the Rome Statute treaty that established the ICC.

Israel says Khan al-Ahmar was built illegally and has offered to resettle its residents a few miles (kilometers) away. Palestinians and other critics say the demolition aims to displace Palestinians in favor of Israeli settlement expansion.

Last week, France, Germany, Italy, Spain and the United Kingdom issued a rare joint statement warning Israel against its planned demolition of a Bedouin encampment, saying its strategic location is important to maintain "contiguity of a future Palestinian state."

"The consequences a demolition and displacement would have on the residents ... as well as on the prospects of the two-state solution would be very serious," their statement said.