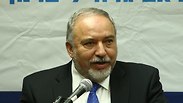 Defense Minister Avigdor Lieberman
Photo: Ohad Zwigenberg
Lieberman expected to demand Gaza campaign at Cabinet meeting
After Wednesday morning's rocket attack launched from Gaza, hitting a house in the city of Be'er Sheva and the sea off the coast of a city in central Israel, defense minister is prone to push for a series of strong blows on the strip at a magnitude not seen since Operation Protective Edge, according to credible sources.
Defense Minister Avigdor Lieberman is expected to demand at the Security Cabinet meeting on Wednesday evening that the IDF lands a series of strong blows on the Gaza Strip at a magnitude not seen since the 2014 Operation Protective Edge, a credible source told Ynet.

Lieberman will likely propose to avoid a ground offensive in the Gaza Strip, but he will urge his fellow Cabinet members to press ahead with the campaign even if the Palestinians respond with rocket and missile fire at Israel, including at the Greater Tel Aviv area.

The defense minister believes the early morning rocket fire that hit a home in Be'er Sheva and the sea off the coast of a city in central Israel only bolsters his assessment that Hamas has already thrown out the rule book on Friday, and that the terror group wishes to prove Israel surrenders to military pressure from it.

On Friday morning, Israel allowed four tankers of Qatari-funded fuel into the Gaza Strip and carried out additional relief steps at border crossings and in the Gaza fishing zone. Despite that, Hamas terrorists blew up a hole in the border fence and mounted an attack on IDF soldiers, with three of the seven killed in Friday's clashes on the border identified as fighters from Hamas's military wing.

While Lieberman believes Israel cannot afford a war-by-choice in Gaza, he is now telling close associates Israel now has no chance but to launch such a war to assure a long period of calm on the border and force Hamas to commit to a long-term truce.

The defense minister has already presented his position at a situation assessment held earlier Wednesday at the Gaza Division with Prime Minister Benjamin Netanyahu, but without IDF Chief of Staff Gadi Eisenkot, who is making his way back to Israel from the US after cutting short his visit there.

Lieberman will likely not receive support from all IDF generals, as some believe there's still a need and a reason to give the Egyptian mediation efforts a chance and reach an arrangement on both the security and humanitarian situation in the strip.

However, following the early morning's rocket attack and subsequent IAF strikes, there is division among the top IDF generals as well, with some supporting the defense minister's position to deliver a series of blows on the Gaza Strip now, even at the cost of escalation in violence that would last at least a few days.