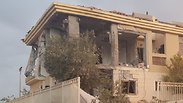 House hit in Be'er Sheve by rocket fired from Gaza
Photo: Haim Horenstein
A White House official condemned Wednesday the overnight firing of rockets from the Gaza Strip at Israel, causing the dustruction of a house in the city of Be'er Sheva.

"We condemn the rocket attack launched from Gaza, and call to put an end to this destructive violence," the official said.

"We appreciate the efforts invested by Israel, the United Nations, Egypt, and Qatar to reach a long-term ceasefire agreement (with Hamas).

"Hamas continues to distance peace, causing more suffering. We call upon Hamas to put the safety and wellbeing of Gaza's residents as their top priority," the White House official went on to say.

On Wednesday evening, The Security Cabinet convened in Prime Minister's Benjamin Netanyahu's Office to discuss possible security development following the military escalation in Gaza.

After a night of calm, the Home Front Command lifted Thursday morning all security restrictions imposed on the Gaza border communities.

Before the meeting began, GOC Southern Command Maj. Gen. Herzi Halevi said that "Hamas presumes to control Gaza, telling the strip's residents it is trying to improve their situation.

"In practice, the rampant violence on the Gaza border in the shape of incendiary balloons, explosive devices and rockets as we witnessed Wednesday early morning, is only worsening the situation of Gaza's residents, prompting us to attack Hamas weapon manufacturing sites, headquarters and underground terror infrastructure," he elaborated.

"All the targets we attacked were destroyed, and will be very difficult to reconstruct," Halevi stated, in reference to the 20 Hamas targets the IDF struck in retaliation for the rockts launched from Gaza.

"The IDF is prepared for all future scenarios and has the know-how to respond with greater power," he concluded.