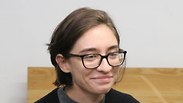 Lara Alqasem
Photo: Motti Kimchi
A US student who was initially barred entry into Israel under a law against foreign pro-Palestinian activists who call for boycotts of Israel will be allowed to stay in the country, the Supreme Court ruled on Thursday.

Lara Alqasem, 22, flew to Israel on Oct. 2 on a student visa to pursue her graduate studies at Hebrew University but was refused entry by security officials who cited her role as president of a small local chapter of Students for Justice in Palestine at the University of Florida.

The Supreme Court in its ruling, seen by Reuters, overturned a lower court decision that initially backed the decision by Israeli authorities.

"The call for participation in a boycott against the state is likely to be considered as encouragement to participate in illegal activity .... There is no dispute that between 2014 and 2017, Alqasem was a member of a student organization and for two years served as its president," Justice Erez Yekuel explained then in his ruling.

Supreme Court Judge Neil Hendel wrote that the state is correct in its intentions but not in its implementation, explaining that combating BDS is admirable and defending a democracy is part and parcel of democracy. However, Hendel asserted, preventing Alqasem's entry does not serve the purpose of the anti BDS law passed by the Knesset.

However one justice wrote that if Alqasem "returns to her old ways" and promoted a boycott while she was in Israel her stay could be cancelled and she could be expelled.

"The Supreme Court's decision is a victory for free speech, academic freedom, and the rule of law," Alqasem's lawyers said in a statement.

The Hebrew University, which supported Alqasem in her struggle to enter the country released a short statement: "The Hebrew University of Jerusalem looks forward to welcoming our newest student, Lara Alqasem, as she begins her M.A. in Human Rights & Transitional Justice at our law school next week."

On Monday, students at the University protested the detention of Alqasem by placing signs on seats throughout the university's Mt Scopus campus reading "Reserved (for) Lara Alqasem." Their efforts were met with a response by activists from the right-wing "Im Tirtzu" movement who erased Alqasem's name from several posters and replaced it with the names of recent terror victims Ari Fuld, Kim Yehezkel Lebengrond and Ziv Hagbi.

Many students also criticized the university's stance on the matter. "The Hebrew University's attitude towards the State of Israel, and even towards BDS, is simply pathetic," said one student.

Alqasem's case has touched off debate in Israel over whether democratic values have been compromised by a 2017 law that bars the entry of foreigners who publicly support boycotts over Israel's policies towards the Palestinians.

Minister of Interior Aryeh Deri responded to the ruling calling it a disgrace. "Where is our national pride? Would she have dared act against the United States while seeking to study there? I intend to examine how to prevent this incident from setting a precedent," he said.

Minister of Internal security Gilad Erdan declared that the court handed a "huge victory to BDS and emptied the law, barring boycott activists from entering the country, of any meaning." He stated that he intends to close the "loophole" in the law so that those who seek to harm the State of Israel and its citizens cannot enter the country.

Tourism Minister Yariv Levin called the court's decision "shameful" and said that the justices "were continuing to act against Israeli democracy and the clear lawmaking of the Knesset."

It was not immediately clear whether the Israeli authorities would appeal the ruling.