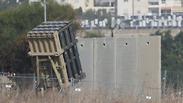 Iron Dome
Photo: Motti Kimchi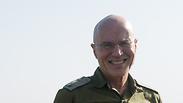 Yoram Yuval
Photo: IDF Spokesmans Unit
The dangerous illusion of absolute security
Op-ed: We need to acknowledge that no high-tech defense system can provide absolute security, even if time and time again our politicians lead us to believe otherwise; this is dangerous nonsense that will blow up in our faces; we must heed and internalize the instructions of the Home Front Command, like Miri Tamano, who saved 3 children when a missile struck her home.
IDF Spokesperson Brig. Gen. Ronen Manlis said a simple truth this week. This truth must be said, and everyone who lives in Israel must hear it, and internalize it too. It is the truth that our politicians do not want to tell us about the Iron Dome, David's Sling and the other expensive defense systems: "The system's defense capability is not hermetic. What saved the day were the correct actions of a citizen," the IDF spokesman said after a rocket hit a residence in Be'er Sheva.

That is the truth; and we need, and can, live with this truth. Protection, any protection, will never be perfect. The illusion of absolute security, which our politicians pretend to demonstrate to us time and time again, is seductive but also a flawed and dangerous illusion.




This is not the first time that the IDF has been forced to do the dirty and unpopular work for the politicians on behalf of the Israeli public, and will almost certainly not be the last time.

Even the coalition members, who do not say so explicitly, constantly emphasize Israel's wonderful defense capabilities. They lead us to believe that the Israeli home front is on its way to being completely protected, hinting that we will all soon live in safety under a multi-layered defense shield of the Iron Dome, David Sling, the technological barrier around the Gaza Strip and other amazing and expensive defense systems that will protect us from harm.

It is written in the monthly prayer for the sanctification of the new moon: "Just as I leap (and dance) opposite you and cannot touch you, so may my enemies be unable to touch me for harm." Our politicians lead us to believe that when crunch time arrives, the Iron Dome will ensure that hundreds of thousands of Hezbollah and Hamas rockets will not harm us.

This is not just false, it is utter nonsense; nonsense that will smack us in the face during the next major military confrontation, as it did this week in the apartment of Miri Tamano and her three children in Be'er Sheva.

Anyone who suggests that we can, now or in the future, be totally protected from harm on the home front, thanks to our defensive missile systems—is simply lying to us.
Why do politicians insist on lying to us?
About two months ago, Prime Minister Benjamin Netanyahu presented the "Security Concept 2030". Its main aim is to add enormous funds to the air defense and cyber defense systems at the expense of the ground forces. In other words, strengthening the home front defenses, at the cost of eroding IDF's ability to achieve a swift and decisive victory on land.

"Rest assured," the politicians say, "we are watching over you. Vote for us, and we will spare no amount of money so that you are completely protected."

But why? Why do politicians insist on lying to us over and over again by telling us about the wonders of Israel's impenetrable defense technology? Why are they telling us that high-tech missiles will protect us from all evil and thwart any possibility of harming Israel's citizens?

The answer is human nature—we very much want to hear it and believe it.

Our politicians, clever and efficient at marketing, are always happy to soft-soap us. Who does not want absolute security for themselves and their family? And who is unwilling to pay any price, and vote for any candidate in order to attain this confidence?

There is only one small problem: there is no such thing as absolute security; nor will there ever be. We are always living under some level of danger. Mental health is the ability to live with this knowledge, to live with doubt and in the shadow of danger, and still function normally, and feel at ease.

What we need in the home front is not blind faith in the falsehood that we are completely protected, but rather the readiness to act when attacked. The air defense systems will successfully intercept most of the missiles that would hit us, but not all of them. There is no substitute for a well-trained home front that is prepared for any challenge.

This, in fact, is what Miri Tamano, a true Israeli hero, understood this week. As her sister, attorney Ora Tamano, said: "My sister is a lioness, she slept downstairs and the children slept in three separate rooms upstairs. She simply grabbed them (upon hearing the alarm) and dragged them to the security room. It gave them life. There is nothing left of the house except for that protected room. She is special; a woman of valor. When I myself am at home, there is a dilemma whether to go to the security room or not, because we rely on the Iron Dome. She did the right thing."

She is 100% correct. We have the means to deal with the missile threat to the Israeli home front. Our air defense systems are indeed a pride-worthy technological achievement, and they are an important element in protecting the home front. But they have cracks, and there will always have cracks. They cannot — and must not — replace vigilance and resourcefulness, readiness for quick response, and use of safety rooms.

The desire for absolute security, and hermetic defense of the home front, is a dangerous illusion. And since our politicians will not tell us this, we should listen to the IDF Spokesperson's Unit. We must be prepared to carry out the instructions of the Home Front Command, which is what Miri Tamano did, and by doing so, she saved her children's lives. This is our true defense, which must be nurtured and practiced, even if it does not add points to politicians in the polls.

Yoram Yuval is a psychoanalyst, psychiatrist and Israeli brain researcher, professor and head of the Brain Institute for Emotional Research at the School of Social Work, University of Haifa.