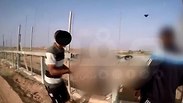 Gazans cross border fence
Watch: Palestinians cross border fence
A group of Palestinians cross into Israel, apparently on Saturday, and hang a picture of a 'martyr' on an abandoned sniper position; footage released by Palestinians demonstrates the ease with which Palestinians cross the fence; IDF emphasizes suspects were under constant observation.
A group of Palestinians from the Gaza Strip crossed the security fence— seemingly on Saturday morning— and hung a photo depicting a Palestinian who was killed during the Gaza border riots on an abandoned sniper position.

The group crossed the fence near the central Gaza Strip, east of the al-Bureij refugee camp, and returned to the Strip unharmed.

Palestinians brazenly cross border fence

Recent footage released by Palestinians demonstrates the ease with which Palestinians cross the fence under the auspices of the weekly riots. IDF officials say that when the men crossed the fence, the infiltrators were being monitored by the forces and the observation posts in the area. IDF is invesitgating the footage.

On Friday, Palestinians from Gaza crossed the fence three times during violent riots on the border, but returned to Gaza immediately thereafter. During one of the incidents, IDF forces fired at the Palestinians.

On Saturday morning, IDF forces identified a group of Palestinians crossing the fence, damaging it, and then crossing into Israeli territory. After a few minutes they returned back to the Strip.

According to the IDF Spokesperson's Unit, "all crossing incidents were under the supervision of our forces."

In addition, an IDF aircraft attacked a terrorist squad launching incendiary balloons into Israel from the southern Gaza Strip Saturday.

This is not the first time the army attacks incendiary balloons squads in Gaza, several such operations have recently been completed.

Earlier on Saturday, fires broke out in Kissufim, Beeri, and Shokeda Forests located in the Gaza region. Firefighting teams and Jewish National Fund (JNF) employees operated on the ground. No injuries were reported.

The border crossings and incendiary balloon incidents continue even after the Security Cabinet instructed the IDF to gradually step up its response and introduce a zero-tolerance policy.

During the Security Cabinet's meeting—which convened Thursday following a rocket attack launched from Gaza on a Be'er Sheva home and in the sea off the shores of a city in central Israel—the military brass presented two operational plans to tackle the violent border clashes and to handle the incendiary balloons launched from the strip into Israel, with the first being air strikes against terror targets in the strip, while the second is containment of the violence while gradually intensifying the army's response to breaching attempts and launching of incendiary balloons and kites.