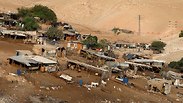 Khan al-Ahmar
Photo: Reuters
Netanyahu stresses Khan al-Ahmar to be evacuated despite postponement
Following earlier reports suggesting the prime minister ordered to postpone the evacuation of the Palestinian-Bedouin encampment, Netanyahu says village 'will be evacuated,' in accordance with the court's decision; Bennett: 'Bayit Yehudi will make sure the demolition goes ahead.'
Prime Minister Benjamin Netanyahu said Sunday that the Bedouin-Palestinian village of Khan al-Ahmar "will be evacuated" despite ordering to postpone the evacuation.

"I have no intention of postponing the evacuation until further notice, despite media reports," he said during a meeting with US Treasury Secretary Steven Mnuchin at the Prime Minister's Office in Jerusalem.

"The amount of time that might be needed to evacuate the residents with their consent will be determined by the Cabinet, which will be convened soon," he stressed.

Education Minister Naftali Bennett also vowed the hamlet "will be evacuated," adding that the village is an "illegal construction, the demolition of which was approved by the High Court of Justice."

The Cabinet minister went on to dismiss the notion that the international community might influence the decision. "In a country that adheres to the rule of law—the law is enforced—even if the international community is objecting and threatening. Bayit Yehudi will make sure the demolition goes ahead."

Reports on Saturday suggested the prime minister had decided to "exhaust all options" before moving ahead with the evacuation.

Defense Minister Avigdor Lieberman slammed that the decision and stressed it was made "despite (his) strong objections."

The Supreme Court recently rejected a final appeal against plans to demolish the village.

Justice Hanan Melcer wrote in his ruling that the evacuation might turn violent. "There is real concern of disorderly conduct and violence occuring during the demolition, especially from non-residents. Social media posts have been calling to rally against the demolition, and to use violence if necessary," Melcer wrote.

"We can only hope the demolition is conducted peacefully, with no physical violence, so that the valuables in each home can be removed in an orderly fashion," he added.

Israel says Khan al-Ahmar was built illegally and has offered to resettle its residents a few miles (kilometers) away. Palestinians and other critics say the demolition aims to displace local residents in favor of Israeli settlement expansion.

The International Criminal Court's chief prosecutor to issue a warning that the destruction of the village might constitute a war crime.

The Bedouin tribe that lives in the village—the Jahalin—is originally from the Arad area. They settled on the territories between Ma'ale Adumim and Jericho in the 1950's, when the land was still under Jordanian rule.

Today the community there includes tents and slum shacks, and an Italian-funded school. It houses 180 inhabitants.