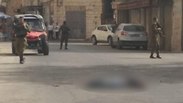 Stabbing attack in Hebron
Photo: IDF Spokesperson's Unit
IDF shot Monday a terrorist who lightly wounded a soldier by stabbing him with scissors near the Tomb of the Patriarchs. According to the IDF Spokesperson's Unit, the soldier and another force responded with fire and neutralized the terrorist.
The terrorist lay neutralized on the ground, and the young victim was evacuated to a nearby hospital while conscious and standing on his feet.
This is the third consecutive week in which an attack takes place in the area.
On Saturday, police arrested a 20-year-old Palestinian man armed with a knife in the West Bank settlement of Har Adar. After a preliminary investigation carried out by Border Police, investigators suspect the man intended to carry out a terror attack. The suspect, who entered the settlement by crossing through the fence in a nearby Palestinian village, was taken in for further questioning
In addition, last week, a Palestinian terrorist tried to stab a soldier standing at a bus stop at the Gitai Avishar Junction on Highway 5 in the northern West Bank.
Fighters of the Artillery Corps' 55th Battalion, who were at the scene, shot and killed the terrorist. No injuries were reported among the soldiers.
The terrorist, Elias Saleh Yassin, 22, left the village of Biddya, the hometown of Ashraf Na'alwa, who carried out the attack in the Barkan industrial area.