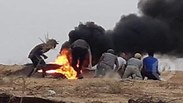 Palestinians: Teen killed in clashes with IDF
Gaza's health ministry reports a 17-year-old protester was shot dead and several others had been wounded by Israeli fire as some 200 Palestinians throw explosives and burn tires east of Deir al-Balah; In addition, a massive fire breaks out in Gvaram Forest due to incendiary balloons flown from the strip.
Palestinian health ministry reported Tuesday that a 17-year-old protester was shot in the head and several others had been wounded by IDF fire as some 200 demonstrators clashed with Israeli security forces east of Deir al-Balah in the southern Gaza Strip.
According to the IDF, the Palestinians set alight tires and threw explosive devices and stones at Israeli troops, who responded with riot control measures, as well as sniper fire, which intended to neutralize the main instigators.
In addition, a massive fire broke out near ​​the Gvaram Forest in the Hof Ashkelon Regional Council as a result of incendiary balloons flown from the strip into Israel.
The fire destroyed dozens of acres of natural woodland, and it took the firefighting crews several hours to gain control of the flames.
Two aircrafts from the the Elad Firefighting Squadron were called to the scene to prevent the fire from spreading deeper into the forest, which during the red anemone season, attracts a large number of tourists.
A smaller fire, which also believed to have been started by incendiary balloons, broke out near the Eshkol Regional Council. The fire had been extinguished.
Massive fire in Gaza border region
Earlier, Israel widened the Gaza Strip's fishing zone to six nautical miles. The zone had been scaled down to three miles a week and a half ago after violent border riots. While on Sunday, the Kerem Shalom and Erez border crossings in the strip were reopened following their temporary closure in light of a rocket attack on the southern city of Be'er Sheva last week.
In the meantime, A delegation of senior Egyptian intelligence officials held on Monday a five-hour meeting with Hamas leaders Ismail Haniyeh and Yahya Sinwar regarding a ceasefire agreement between Israeli government and Gaza's rulers.
Defense Minister Avigdor Lieberman also addressed on Monday the possibility of reaching a ceasefire deal with the terror group, emphasizing he does not believe such a deal is possible.
"Nothing less than than striking Hamas with the hardest and heaviest blow will help us in Gaza. It has not worked in the past, it does not work now, and it will not work in the future," the defense minister said referring to the Egypt-mediated indirect talks between Israel and Hamas.
Associated Press contributed to this report.