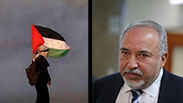 Lieberman and the Gaza Strip
Photo: AP, Alex Kolomoisky
Lieberman says ceasefire deal with Hamas is not possible
Defense minister believes Israel has exhausted all options against Gaza's rulers and nothing short of striking the terror group with 'the hardest blow' will change the situation in the strip; adds Hamas pays border riots' organizers NIS 3,000 for every Palestinian killed.
Defense Minister Avigdor Lieberman said Monday that he does not believe in the possibility of reaching a long-term ceasefire arrangement with Hamas, emphasizing that nothing short of striking the terror group with "the hardest blow" is going to improve the security situation in southern Israel.

"Nothing less than than striking Hamas with the hardest and heaviest blow will help us in Gaza. It has not worked in the past, it does not work now, and it will not work in the future," the defense minister said referring to the Egypt-mediated indirect talks regarding an arrangement between Israeli government and Gaza's rulers.

Speaking at the onset of the Foreign Affairs and Defense Committee meeting, Lieberman also added that Israel has exhausted all options and a military operation in the strip is the only solution the country has left.

"The State of Israel does not have the luxury of conducting wars when there is an alternative, but we have reached a point where there isn't one. We have exhausted all options and now a decision has to be made," he vented.

The defense minister also addressed his decision to reopen the Kerem Shalom and Erez border crossings only days after a rocket launched from Gaza hit a residential home in the souther city of Be'er Sheva.

"They have a new tool called the March of Return, and we have the border crossings. I am trying to create a direct correlation between the level of violence and the economic activity. When there is violence, Gaza's economy will have to sustain losses," he explained.

Lieberman also elaborated on the mechanism behind the organization of the weekly border riots.

"The border protests are an act of institutionalized violence initiated by Hamas. Thousands of people arrive on buses and for each bus Hamas pays thousands of shekels—3,000 for someone being killed, 500 for seriously wounded and 250 for those wounded moderately or lightly," concluded the defense minister.

Former head of intelligence, Major General Aharon Ze'evi-Farkash, said that in his opinion the deterrence against Hamas has evaporated.

"Although the strategic deterrence against Hamas still exists, because they do not want us to reoccupy Gaza, but with regards to border conflict, there is no deterrence … and if we do not restore it, the lives of the Gaza border region residents will become hell," he stressed.

Ze'evi-Farkash also added that the latest rocket attack on the southern city of Be'er Sheva, which destroyed a residential home, is Hamas's way of deterring Israel.

"Hamas heard all the latest threats aimed at them and wanted to demonstrate what will happen to the south (if the threats were to materialize)," he emphasized.