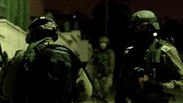 IDF's manhunt for Barkan terrorist
Photo: IDF Spokesperson's Unit
The security forces arrested early Friday morning several Palestinians, who are suspected of aided the terrorist from the Barkan industrial zone shooting attack that left two people dead, to evade capture.

The IDF Spokesperson's Unit said that as part of the manhunt for Ashraf Na'alwa, IDF forces, the Shin Bet and the Border Police arrested several suspects, in the area of the Menashe Regional Brigade in the West Bank, who were later transferred for further questioning.

The manhunt for the perpetrator who murdered Ziv Hagbi and Kim Levengrond Yehezkel has been ongoing since the incident took place more than two weeks ago.

Last week it was reported that the IDF troops surrounded an abandoned building in Na'alwa's hometown of Shweiki near Tulkarem, where the security forces believed the terrorist might be hiding, but the search was unsuccessful.

In addition, the IDF delivered a home demolition order to the family of the terrorist.

On Thursday, a security official said that Na'alwa was part of a terror cell, which the defense establishment failed to detect beforehand, and not a "lone wolf" as it was assumed in the beginning.

The terrorist was granted a work permit after being vetted by Israeli security officials, who did not find any ties to terrorism in his past.

But now it appears Na'alwa was a part of a terror cell, which is not affiliated with any of the terror organizations.

The fact Na'alwa was not caught immediately after the attack, and that security forces have so far been unable to gather intelligence about his whereabouts, indicate the terrorist is receiving help from accomplices.

The Shin Bet, meanwhile, have rejected the definition of a "terror cell" being behind the Barkan terror attack, preferring instead to use the term "collaborators."

Since the Barkan terror attack, there has been a certain increase in the number of attempts by "lone wolf" attackers to carry out copycat attacks.